2 Paris firefighters killed after explosion at bakery
The fire department had been called due to a gas leak in the bakery
---
PARIS — Two firefighters died in a major blast at a bakery in central Paris on Saturday morning, said French police, correcting an earlier death toll of four offered by the French interior minister.
French Interior Minister Christopher Castaner has since admitted that the earlier number he gave was wrong, a police spokeswoman said.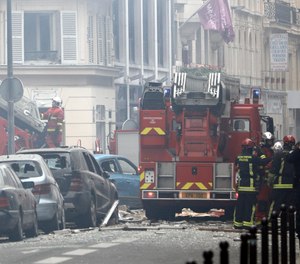 Ten people were seriously injured, while 37 received minor injuries, Castaner had also earlier told broadcaster BFMTV.
The explosion took place around 9 a.m. on Rue de Trevise, not far from the Paris Opera.
Initial indications point to an accident.
The fire department had been called due to a gas leak in the bakery, a police spokeswoman told dpa earlier Saturday.
Around 100 police officers and 200 firefighters are at the scene, the interior minister said. The situation is said to be under control.
Security authorities are now checking to see whether neighbouring buildings were damaged and therefore pose a risk, Castaner said.
Video footage from the scene showed a massive deployment of firefighters, with smoke flowing out of the building.
Several glass panes were destroyed in the explosion, media reported.
A resident of a nearby house told BFMTV: "I felt the foundations of my building shake for a second or two. I was wondering if there was an attack, I was a bit scared."
France is on high alert after the fatal shooting attack in Strasbourg last month.
———
©2019 Deutsche Presse-Agentur GmbH (Hamburg, Germany)
McClatchy-Tribune News Service