NJ FF, police officer credited with saving junior FF injured in explosion
The junior firefighter is in critical but stable condition after the blast
---
By Laura French
RIDGEFIELD PARK, N.J. — A New Jersey firefighter and police officer are credited with saving the life of a junior firefighter injured in an explosion on Sunday. 
The junior firefighter suffered serious injuries after an explosion inside a burning garbage receptacle sent shrapnel and debris in his direction, according to Ridgefield Park Volunteer Fire Department Chief John Antola Jr. The teenager was hit by shrapnel in multiple areas of his body, causing severe trauma and major bleeding.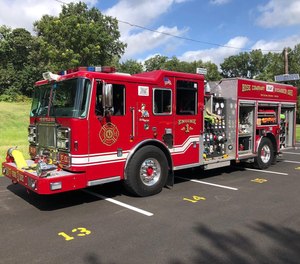 A firefighter and police officer at the scene immediately applied a tourniquet to one of the junior firefighter's legs above one area of major trauma, according to Antola. 
"The immediate application of the tourniquet is credited by medical professionals as potentially saving his life," Antola stated. 
The junior firefighter was transported to the hospital with "life-changing injuries" and underwent several surgeries, Antola said in his statement. He remains in critical but stable condition as of Monday afternoon. 
The fire occurred behind a restaurant in a makeshift wooden garbage receptacle and fire crews from two engine companies were stretching separate hoselines when the explosion occurred. Antola said the junior firefighter had just finished a training evolution with Engine Co. No. 3 when he responded with them to the fire and was assisting in setting up an attack hoseline at the time of the blast. The fire was raised to two alarms and firefighters quickly extinguished both the garbage fire and a subsequent fire located inside the commercial building. 
Another firefighter, 2nd Lt. Christopher Santana from Engine Co. No. 1, also sustained minor injuries in the explosion. Antola said Santana suffered an ear injury and was released from the hospital later on Sunday. 
The name of the junior firefighter was not released due to his age. The department asked for privacy and prayers for the two injured firefighters. 
"As is normal for any incident involving firefighter injuries, this situation is still fluid and parts are under investigation by multiple agencies including but not limited to The Ridgefield Park Fire Prevention Bureau, the Bergen County Prosecutor's Office, the State Division of Fire Safety and the State Division of Labor," Antola stated.