2 firefighters injured when car slams Houston fire truck
The rig was blocking the road for a vehicle crash at 2 a.m. when it was hit; the firefighters have non-life-threatening injuries
---
KHOU
HOUSTON – A woman is dead after the speeding car she was riding in slammed into the back of a fire truck early Saturday in southeast Houston, police said.
According to the Houston Police Department, two of the firefighters, who were inside the fire truck, are in the hospital as well as the driver of the speeding Dodge Challenger.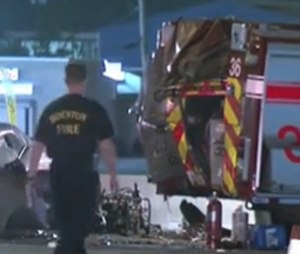 The accident happened around 2:30 a.m. on the outbound lanes of the Gulf Freeway near Airport.
Full story: 1 dead, 3 others injured after car slams into fire truck on Gulf Freeway