Fallen N.Y. firefighter's widow files notice, says he faced 'unreasonably dangerous conditions'
Sarah Tierney, wife of Buffalo Firefighter Jason Arno blames negligence, cites conscious pain and suffering and wrongful death
---
By Patrick Lakamp
The Buffalo News
BUFFALO, N.Y. — The widow of a Buffalo firefighter says her husband was killed when allowed to enter a burning vacant Theater District building, despite "unreasonably dangerous conditions."
Sarah Tierney, in a notice of claim against the City of Buffalo and the Fire Department, said her husband, Jason Arno, 37, and other firefighters entered the building at 745 Main St., despite department officials knowing the building was vacant.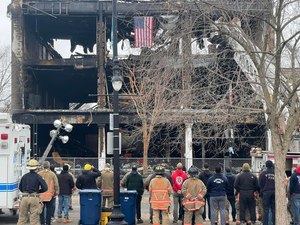 Tierney also cited other issues:
Failure of the city to sufficiently train and supervise Arno and his supervisors.
Failure to adequately inspect firefighting equipment.
Failure to follow proper mayday, evacuation and man-down procedures.
Failure to provide Arno and other firefighters with proper and adequate equipment, including gloves, turnout gear, panic buttons, mayday equipment, helmets, hoses and radios.
She is represented by attorney Charles S. Desmond II of the Gibson, McAskill & Crosby law firm.
Destroyed in the blaze was DC Theatricks, a costume shop, which listed its address as 747 Main St.
The notice cites conscious pain and suffering and wrongful death, among other claims, which the notice states were caused by the "negligence, recklessness and carelessness" of the city and the Fire Department.
---

Read more
Fire investigation into blaze that killed Buffalo Firefighter Jason Arno nears completion
As the ATF investigates, a fire research lab in Maryland is working to create a computer model showing how the fatal fire spread and grew
---
The department did not comply with the "two in/two out" policy, failing to ensure that at least two firefighters remained in visual or voice contact with one another at all times, according to the notice of claim.
As the first fire crew arrived at the March 1 fire, according to radio dispatches, firefighters reported heavy smoke pouring out of the first floor of the three-story building on a part of Main Street filled with commercial storefronts.
"At this time, let's start a second alarm," a fire official told dispatch.
As more crews were called to the scene, several firefighters went inside to investigate the source of the fire.
They quickly reported to dispatch that there was "heavy fire" in the back of the building, and later reported it was about halfway into the building.
Within minutes, the commander on the scene reported "heavy, heavy fire," and told dispatch to raise the fire to a third alarm.
---

Read more
Video: Hundreds pay respects at services for N.Y. Firefighter Jason Arno
"The response has been overwhelming from firefighters here locally, across the country and internationally," said Buffalo Mayor Byron W. Brown
---
Then, the commander can be heard saying: "Everyone out. Dispatcher, pull everybody out of here. The fire has too much of a head start. ... We're going to go defensive on this."
It is believed debris fell on Arno as a blast blew a fellow crew member away from him.
A frantic exchange of dispatches followed.
"Engine 2, are you all accounted for?" a voice asked.
"We do have a confirmed missing member," a voice can be heard telling dispatch.
A city spokesman said the city does not comment on pending litigation.
___
(c)2023 The Buffalo News (Buffalo, N.Y.)
Visit The Buffalo News (Buffalo, N.Y.) at www.buffalonews.com
Distributed by Tribune Content Agency, LLC.
McClatchy-Tribune News Service