From 'Black Sunday' to Baltimore tragedy: January fires evoke pain, old and new
What makes January such a deadly month for the fire service – and what can we learn from recent incidents, like Baltimore?
---
The winter months are always tough for firefighters, dealing with not only snow and ice but significant residential fires, too. This winter has lived up to this history in very deadly measure. January alone has seen two of the deadliest residential fires on record in the cold northeast, with 30 civilians perishing and at least 30 more being transported, in incidents in Philadelphia and New York.
Bringing testimony to harsh winter firefighting conditions, countless videos have streamed across our devices and computers in recent weeks. The chemical plant fire in New Jersey, the wildland fires in Colorado, and several residential and commercial fires during brutal winter storm onslaughts have tested the muster of many of our firefighters.
If this weren't enough to underscore the brutality of winter firefighting, this week brings additional pain, old and new. Jan. 23 marked the 17th anniversary of FDNY's deadly "Black Sunday." And one day later, we find ourselves shocked and saddened to learn of the deaths of three Baltimore City firefighters in a rowhouse fire. A fourth firefighter remains on life-support at Baltimore's Shock Trauma unit. Baltimore will forever remember Jan. 24 as its own dark and dismal day, akin to FDNY's "Black Sunday."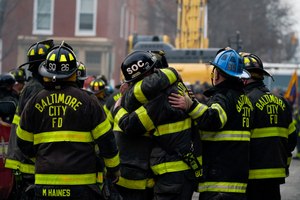 Baltimore in focus
On Monday, Jan. 24, Baltimore crews responded shortly before 6 a.m. to a three-story rowhouse fire. The home in question was vacant; however, the adjoining homes were occupied.
A partial collapse occurred, trapping four firefighters. Multiple mayday calls were made from the well-advanced residential fire. One firefighter was removed quickly, two others were removed after some time, while the fourth took longer to reach.
Baltimore City Fire Chief Niles Ford later announced the death of three firefighters: Lt. Paul Butrim, Firefighter-Paramedic Kelsey Sadler, and Firefighter-EMT Kenny Lacayo. Firefighter John McMaster remains in critical condition.
Further details of the incident will continue to be revealed through the investigation process. Media reports have indicated that this particular address was the scene of a previous fire and had been ordered to be repaired. There is no further information currently available about the Baltimore fire.
Ford noted that the city's last firefighter line-of-duty death was nearly seven years ago.
Worsening winters
FDNY's Black Sunday in 2005 also saw three LODDs – two firefighters killed at a tenement fire in the Morris Heights section of the Bronx (where four other firefighters were injured), and one firefighter was killed in a separate house fire in the city less than three hours later.
What's different this winter from most is the seemingly continuous onslaught of significant incidents, including maydays and firefighter injury/death reports, hitting our news feeds. There have been significantly more structural fire entrapments, deaths and injuries this winter than I recall in recent memory. For me, it is a stark reminder of how truly dangerous our profession can be, how important it is to look out for each other, and how crucial it is that we train, train, practice, train, and practice some more. I hope that we all see the signs from these incidents as the impetus to work toward a safer environment, not only for our firefighters but our communities as well.
Let's take a look at just some of the fatal or close call incidents from the first three weeks of 2022:
That's eight firefighters dead – operational deaths – in the line of duty between Jan. 6 and Jan. 24 in five separate incidents, in four different states. (Note: There have been others who have died of medical/health-related issues during the same period. Not capturing them in the list above is not meant to diminish their service or sacrifice in any way; this article is intended to draw attention to the overwhelming increase in operational deaths in the past three weeks.)
Unpacking what's different
While fireground operations are dynamic, nothing I've seen from any of these incidents strikes me as oddly unfamiliar. I know it is not fair to paint with broad strokes; however, I believe there are three unique factors that are impacting our current spate of call volume and injuries/deaths:
Cold-weather equipment: It has been a colder winter than in recent years. With more people staying inside due to illness or remote work, the use of heating devices increases – and so does the opportunity for error.
Increased isolation: The isolation prompted by the pandemic has more people doing not-so-smart stuff to keep warm – think using ovens or candles as heating sources and overloading extension cords with high-amperage heaters. With more people staying inside, I submit there's a certain amount of idle-time/idle-mind syndrome going on – they don't have anything else to do, so they do x or y that they wouldn't normally do, even some general horseplay inside that would normally be more harmless outside.
Missing messaging: Just as communities and families have found themselves sequestered in their homes and in smaller groups, firefighters have found themselves sequestered in the fire station, working in smaller groups and not getting out into the community as much. While social media maintains connectivity, the messages and inspections related to CRR are unquestionably better received and better initiated face to face. So what does that mean? It means to for the last two years, we haven't been "in their face" preaching messages of fire prevention and fire safety, and many of the preemptive safety inspections that would have found emerging problems, or at least given people pause, haven't been happening.
[Read next: 'Information fatigue' is making it harder for our safety messages to stick]
The solutions to these three issues are wrapped in reinforcing everything we already know – CRR activities, mayday training and command training. We need to get back out into the community and make CRR a priority again. Wear masks, keep your distance from people as you can, but get back to your daily street training and building inspections, preplans and community visits.
Easy and hard decisions
Back to Baltimore. This was not a new problem or address. This type of structure is what many would call our "bread-and-butter" response – one we "do" all the time. So, what went wrong?
Pictures from the scene suggest a well-involved fire on three floors upon arrival. As the quick collapse confirms, the structure was in imminent danger.
Aggressiveness is good – it is the core of our firefighting culture. We learn from day 1 in this business that things can go from zero to 60 with the snap of a finger – things get "real" fast. We are chaos managers and must ensure that we are prepared to deal with the chaos, not become part of it. We should be prepared to make the difficult go/no-go decisions on every call. And let's be clear, not every fire is a "go" situation. We make the easy decision to commit firefighters to obvious rescue situations every day. Similarly, we need to be ready to make the hard decision to not commit firefighters to unsurvivable environments every day as well.
These statements are not a reflection on the Baltimore incident per se, rather a reminder to all of us to look before and after we leap. I know Chief Ford, and I know he will take care of his people first and will leave no stone unturned in the analysis of this incident.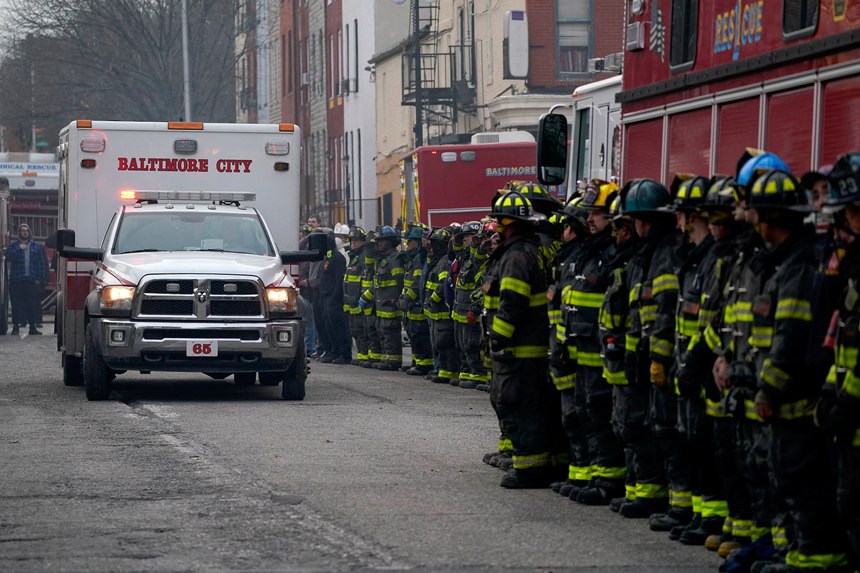 What else can we do?
Be prepared to make the difficult and unpopular decisions as quickly as you make the popular decisions – that's part of our responsibility to each other!
Expect the unexpected! Train, look out for each other, and train some more. FireRescue1 recently released a special series coverage on mayday incidents. I encourage everyone to take the time to review and share the resources provided to ensure we are all ready.
Leadership in our business isn't about running a secondary job, a daycare center, nor is it a choice. Are you ready to lead people where they need to be? If not you, who? If not now, when?
Our thoughts and prayers are with the Baltimore City Fire Department, its members, and the family and friends of those involved. And we continue to remember and honor the FDNY firefighters who gave their lives 17 years ago.