Calif. officials launch large rescue response on unfounded report
Two helicopters and at least one rescue boat were launched to investigate a report of about a dozen people struggling in the ocean near the U.S.-Mexico border
---
By Alex Riggins and Sandra Dibble
The San Diego Union-Tribune
SAN DIEGO — Authorities in San Diego launched two helicopters and at least one rescue boat late Thursday night to investigate a report -- which ultimately turned out to be unfounded -- of about a dozen people struggling in the ocean near the U.S.-Mexico border, officials said.
The false alarm was sparked by a single man rescued by Tijuana lifeguards while apparently trying to swim into the U.S. around 9 p.m., according to Luis Hernandez, operations chief for Tijuana's lifeguards.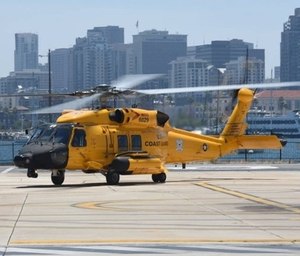 A municipal source in Tijuana identified the would-be border crosser as a 30-year-old Honduran migrant.
He was apparently drunk, and upon being rescued, told lifeguards that at least 10 others had been with him in the water, Hernandez said. His statement led to the large bi-national emergency response.
U.S. Coast Guard officials launched a helicopter and the cutter Sea Otter, San Diego Fire-Rescue Department personnel launched a helicopter, and lifeguards from San Diego and Imperial Beach scrambled to the Friendship Park border area for the potential search-and-rescue mission.
Within about an hour, Mexican authorities passed word north of the border that the reports of a dozen people in the water were unfounded.
Witnesses told Tijuana lifeguards the Honduran man was the only person to enter the water, according to Hernandez and Coast Guard spokesman Petty Officer Patrick Kelley.
"Officials (in Mexico) located the rest of the group (on land), and we stood down," Kelley said. "Our helicopter basically flew out there, and flew back."
The man who was rescued was taken to a Tijuana hospital to be treated for possible hypothermia, Mexican officials said.
Public safety officials in Tijuana were on high alert Thursday evening, especially along the coast, after rumor spread that several dozen Central American migrants were planning to march from their makeshift shelter in a sports complex to the beach in Playas de Tijuana.
It was unclear what they planned to do once reaching the ocean, but officials said the large group never materialized at the beach Thursday night.
Copyright 2018 The San Diego Union-Tribune
McClatchy-Tribune News Service