Carnival honors victims of deadly Grenfell Tower fire
The two-day festival opened with the release of dozens of white doves to commemorate the victims
---
Associated Press
LONDON — Hundreds of thousands of people are expected at London's Notting Hill Carnival, where celebrations will pause to remember victims of the deadly Grenfell Tower fire.
The Caribbean carnival, billed as Europe's biggest street party, winds through west London streets near the tower block gutted by a blaze in June that killed at least 80 people.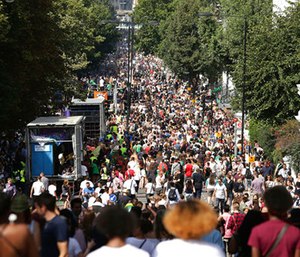 The carnival's floats, steel bands and sound systems will fall silent Monday afternoon to remember those who died.
The two-day festival opened Sunday with the release of dozens of white doves to commemorate the victims. Participants also held a minute's silence Sunday for the fire victims.
Security has been tightened this year in the wake of vehicle and knife attacks across Europe, with steel barriers and concrete blocks around the edge of the route.