'Blind service': Dynamic environments require focus devoid of judgment
Our initial and ongoing assessment of patients should be no different than our initial and ongoing assessment of fire scenes
---
Several recent EMS-related events that ultimately began as law enforcement events remind me of conversations with firefighters about aggressive interior fire attacks. I'm all in for an aggressive attack that is not reckless. And yes, you can deliver safe aggressive service. Just remember, you cannot be aggressively competent if you are simultaneously being recklessly incompetent.
Should the same theory apply to EMS related calls? Absolutely.
In the Illinois incident, an EMS unit was called by law enforcement for an individual reportedly suffering alcohol withdrawal and having hallucinations. EMTs transported the patient face-down strapped to their ambulance cot – ultimately the patient died. The coroner determined the patient's death was caused by "compressional and positional asphyxia," the result of being strapped face down on the cot. The two EMTs were charged with first-degree murder, reportedly based on "what they should have known" from their training.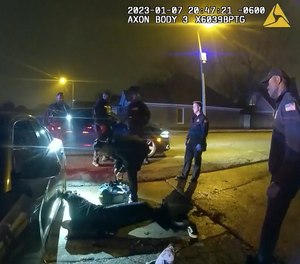 Prepared to pivot
Safety should always be eyes wide open, while your actions of service should be blind to the circumstances or environment. Our initial and ongoing assessment of patients should be no different than our initial and ongoing assessment of fire scenes. In both cases, we're analyzing the threat, assessing the conditions observed and developing a plan of action. Whether it's a fire or EMS incident, we are always observing threats and conditions surrounding both us and the other people involved.
We are trained in both fire and EMS response to perform a 360. We're assessing these scenes for the same basic reasons – to establish a strategy for our treatment or tactical actions. Note: I fully recognize that things are not always what they seem, and that dispatch information is not always reflective of what you find. I have seen hundreds of incidents that were dispatched as one thing that turned out to be something else. I have been there when the initial actions based on a response for an automatic fire alarm had to change as our investigation finds a fully involved bedroom fire. I have also been the EMT on that two-person crew when that "bloody nose" turned out to be a cardiac arrest.
In the Memphis case, law enforcement called for assistance with a patient who had been "sprayed with pepper spray." A Memphis fire engine responded first and confirmed that EMS transport was needed. An ambulance arrived 15 minutes later, and the patient was transported to the hospital where he later passed away. Bodycam footage captured the event and the response, ultimately resulting in the termination of a Memphis lieutenant and firefighter-EMTs.
Whether fire or EMS, when providing service, we should be constantly operating in an OODA Loop posture (Observe, Orient, Decide, Act). No matter if we're attached to fire apparatus or EMS transport units, we're almost never operating in a static environment. We work every day in dynamic environments that require dynamic providers and dynamic leadership. Bottom line: We must always be prepared to pivot, regardless of the initial dispatch. 
Privacy and responsibility
While the vast majority of our folks are conducting themselves professionally and providing professional care, let's face it, inadequate-care incidents likely happen far more often than we care to admit. In this era of personal cell phones, we should have no expectation of privacy. There is always a camera and/or a microphone around. If we're doing the right thing, that shouldn't matter.
We are public safety officials who are held to a higher standard – members who must maintain the public's trust. Members must be held accountable for their actions, just as company officers must be held accountable for the actions of the crew. As a company officer, it is critical to understand that your crew will be as prepared (or unprepared) as you are. If you've got a lackadaisical attitude, so will your crew.
Rise above
The videos speak for themselves, and the investigations will undoubtedly produce a litany of lessons. Let's make sure they truly lessons learned, not just problems identified.
I will not speak to or feed rumors about these or other incidents – stick to the facts. Please resist the urge to armchair-quarterback incidents in which you weren't involved or for which you don't have all the information. Building stories on top of rumors is a disservice to the firefighters and EMS personnel involved.
Further, we know that law enforcement actions of the past few years have been lightning rods for community protests, which, in some unfortunate cases, have devolved into riots. Fire and EMS providers MUST rise above the fray that is created by these actions and find a service path forward that is blind to patient status or to our own emotional distresses.
Are you providing blind service or are you operating with reckless abandon? Let's make sure we're all focused on the facts that we are here to provide an emergency (or non-emergency) service, regardless of the environmental or cultural conditions.
I suspect there will be more developments from these incidents as the investigations and inevitable legal challenges unfold. Remember, we are the service-providers, not the judge and the jury.