Colo. city council declines to defend firefighter in fatal careless driving case
The Colorado Springs crewmember reportedly drove over the victim with a department truck while responding to a fire
---
By Mary Shinn
The Gazette
COLORADO SPRINGS, Colo. — The Colorado Springs City Council declined to defend a city firefighter who is facing a criminal charge after allegedly driving over and killing a woman while responding to a fire in Dorchester Park.
The council voted 6-2 Tuesday to decline to cover the costs related to the firefighter's criminal defense because it was not in the city's best interest.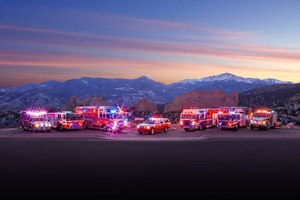 The City Council reviews three factors in determining whether to defend an employee — whether the act was part of an employee's duties, whether the person was acting in good faith without malice, and whether the cost of defending the person serves the interest of the city, according to documentation provided to the council.
A few council members declined to explain further why they wouldn't defend Wesley Cosgrove, who is facing a careless driving resulting in death charge, because discussions about the case happened in an executive session.
Councilmembers Dave Donelson and Stephannie Fortune voted in favor of defending Cosgrove.
"We are trying to hire more police officers and maintain our EMS. ... It's important they feel like we will support them when something happens, if we can," Donelson said.
Cosgrove was responding to reports of a man trying to light a fire in a tree stump in Dorchester Park at about 2:45 p.m. Oct. 16 when he ran over what he believed were discarded items at the southeastern corner of the park where the grass and dirt meet, according to a summary of the case provided to council.
He had attempted to drive around the items and go west toward the fire when the truck's rear passenger side wheels rolled over Margaret Miller, who was under a blanket, and some of the discarded items. Miller died in the park, the summary said.
Cosgrove is still an employee with the department, a spokesman confirmed Tuesday.
___
(c)2022 The Gazette (Colorado Springs, Colo.)
Visit The Gazette (Colorado Springs, Colo.) at www.gazette.com
Distributed by Tribune Content Agency, LLC.
McClatchy-Tribune News Service