FDNY: 18 of 350 units out of service due to vaccine mandate
NYC officials said service disruption has been minimal across agencies despite the lingering protests over the COVID-19 vaccine mandate
---
Paul Liotta
Staten Island Advance, N.Y.
STATEN ISLAND, N.Y. — Despite putting 9,000 New York City workers on unpaid leave for their refusal to get the coronavirus (COVID-19) vaccine, top city officials presented a united front Monday morning as the latest mandate went into effect.
Mayor Bill de Blasio, along with the city's fire, police and sanitation commissioners, said service disruption around the city has been minimal despite mass protests around the five boroughs.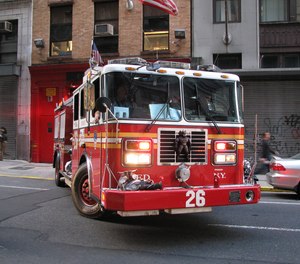 "We have real results from this mandate," de Blasio said. "We need everyone to do their job, and we need everyone to be safe."
About 21,000 of the city's 378,000 employees remain unvaccinated with 9,000 going on unpaid leave Monday and 12,000 awaiting decisions on medical or religious exemptions. Those employees awaiting decision can still report to work.
Since Oct. 20, when the mayor announced the mandate and an additional $500 incentive for city employees to get their first shot, vaccination rates have gone up across city agencies, according to city numbers.
Overall, there have been 22,472 new vaccinations since the mayor made the announcement, and 3,564 just over the last weekend.
The NYPD has seen the percentage of its members vaccinated increase from 70% to 84%. The percentage of Department of Sanitation (DSNY) vaccinated members has increased from 62% to 83%. FDNY firefighters have seen their rates increase from 58% to 77%, and their EMS counterparts rates have gone from 61% to 88%.
"We have very strong numbers among our workforce, contingency plans are there, but the good news is all the folks who showed up for work today," de Blasio said. "We're not seeing disruptions to any city services."
Fire Commissioner Dan Nigro said that across the city, about 18 of the FDNY's 350 units are currently out of service. Police Commissioner Dermot Shea said 34 uniformed members and 40 civilian members were placed on unpaid leave.
Sanitation Commissioner Ed Grayson said the DSNY had taken steps to address the widely reported trash build-up from last week as collections went unmet.
"Ours is a very visible service to all New Yorkers," he said. "I'm happy where my workforce is, where they're going towards vaccination, and we're looking forward to the rest of the week."
Despite the increased vaccination rates and claims of minimal services disruption, protests against the mandates have been ongoing around the five boroughs.
About 50 protestors gathered outside the DSNY's Staten Island Garage 2 in New Springville to speak out against the mandate, and thousands protested outside City Hall and Gracie Mansion last week.
Additionally, the mayor addressed concerns about city workers using unjustified medical leave further exacerbating worker shortages.
He said the city was monitoring the situation, and prepared to take actions against the city's municipal unions if officials determined their workers are engaged in a job action in violation of the Taylor Law. The city took similar action against the Correction Officers' Benevolent Association in September.
"Whether these union leaders have now crossed a line, we are watching every single thing they say and do," he said. "If we see a violation of the Taylor Law, we will take action immediately."
___
(c)2021 Staten Island Advance, N.Y.
McClatchy-Tribune News Service