New York City Fire Museum exhibit celebrates EMS providers' pandemic work
"Unmasking Our Heroes" includes photos, a video, and artifacts from the public including a large "thank you" sign
---
By Leila Merrill
NEW YORK — The New York City Fire Museum has opened an exhibition called "Unmasking Our Heroes," celebrating the efforts of FDNY members – particularly EMS providers – during the pandemic.
The exhibition includes dozens of images and a video and runs from Friday, April 15 through sometime in late August. It also includes artifacts from the public, including a large "thank you" sign.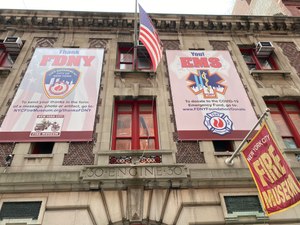 The exhibition includes an interactive feature in which attendees can leave messages thanking EMS providers.
"During this unprecedented time in the history of our city, state, and nation, we owe a debt of gratitude to members of our City's Emergency Medical Service," Jennifer Brown, executive director of the New York City Fire Museum, said in a news release. "The men and women of FDNY were on the front lines, responding to countless calls – at one point more than 6,500 in one day – for medical assistance related to the pandemic. Their efforts illustrate the best of New York City: always rising to any challenge."
The museum is open Wednesdays through Sundays. Admission is $10 for adults, $5 for children and $8 for firefighters, students, seniors, AAA members and people with disabilities. Active members of FDNY and NYPD get in free.
More information about visiting the museum is here.