Canada firefighters' cell photo causes flap
---
Editor's note: Winnipeg Deputy Chief Ken Sim says taking the photo on the fireground was inappropriate while union president claims the fuss is unwarranted as the two firefighters were waiting for defensive operations to begin. What's your opinion? Have your say in the member comments section.
By Bartley Kives
The Winnipeg Free Press
WINNIPEG, Canada — The Winnipeg Fire Paramedic Service is investigating the circumstances surrounding a pair of firefighters' decision to pose and take a cell phone photo in front of a Redwood Avenue blaze.
On Thursday evening, Free Press photographer Boris Minkevich took a photo of a defensive fire with two Winnipeg firefighters in the foreground. One posed for a cellphone picture shot by the other while they waited for aerial equipment to be set up.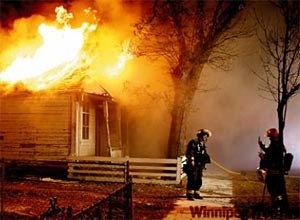 On Friday, WFPS Deputy Chief Ken Sim said his department planned to investigate in the evening, when the firefighters in question returned to work.
"Our perspective at this time is this was inappropriate," he said. "This is one of those pictures that begs the question, 'What were they assigned to do that allowed them to take the picture?' "
While firefighters are provided with cameras to document evidence, Sim said it appears the camera depicted in Minkevich's photo was a "non-issued device." Sim said his department will take "whatever action is necessary to take" once the firefighters in the photo are identified.

Check out what these FireRescue1
Facebook
fans had to say about the photo and voice your opinion in the
member comments section
.
"
I think they have every right
to do what they want. The fire was already defensive so they couldn't do anything about it anyway. All they were going to do is let it burn to the ground and control it. In the meantime while they had nothing to do and the trucks were setting up, why not take some pictures."
— Joe Ziranski
"
We all have to remember the public's perception
of our activities while on scene. While we all know it was harmless and wouldn't have changed the outcome of anything, it looks bad. And with everyone running around with video and still cameras, Big Brother is watching most of the time."
— Mark Mayer

Give your opinion about the photo
The president of the union representing Winnipeg firefighters shrugged off the investigation, noting the personnel in the photo could not do anything but wait until more equipment arrived to douse the blaze.
"Is it inappropriate? Probably. But we deal with life and death every single day," said Alex Forrest, president of the United Fire Fighters of Winnipeg. "I didn't get one call about (a recent) fatality and the firefighters who risked their lives trying to save someone, but I got a dozen calls about this one."
Free Press photographer Minkevich, meanwhile, said he did not intend his photo to cause any harm.
"It seemed so innocent. There were numerous firefighters waiting for the apparatus to be set up," said Minkevich, a recent winner of an award from the International Association of Firefighters.
"This only lasted a moment. I perceived it as an innocent thing I would do myself. I've been to a lot of fires."
Media interest in Minkevich's photograph came from as far away as the San Francisco Chronicle which wanted a copy of the picture for its website.
Copyright 2009 ProQuest Information and Learning
All Rights Reserved
Copyright 2009 F.P. Canadian Newspapers Limited Partnership