NIOSH: LODD shows dangers of using fire escapes to access roofs
Firefighter Christopher Wheatly died last year when he fell 53 feet from a fire escape ladder while responding to a restaurant fire
---
CHICAGO — The death of a Chicago firefighter shows the need for departments to avoid using fire escapes as a primary means of access for roofs, according to a fatality report.
Firefighter Christopher Wheatly died August 9 last year when he fell from a fire escape ladder while responding to a restaurant fire.
As he was ascending a vertical ladder starting at the fourth floor of the structure, Firefighter Wheatly lost his grip and fell 53 feet to the pavement, according to a NIOSH investigation report released Tuesday.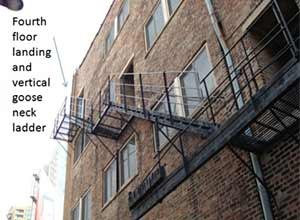 Firefighter Wheatly was transported to a local hospital where he was pronounced dead.
Investigators say the burden of carrying a 63-pound hand pump in his right hand likely made it harder for him to hang onto the ladder, highlighting the need for fire departments to ensure firefighters are rigorously trained in safe procedures for carrying or hoisting equipment.
"In this incident, the victim opted to ascend the gooseneck ladder portion of the fire escape while carrying the hand pump instead of hoisting it from the landing to the roof with a rope or webbing," the report said.
"This resulted in the inability to maintain 3-point contact with the ladder."
The report also stresses the need for firefighters to train on safe ladder climbing procedures, as the ladder in the investigation was likely too close to the structure for use by a firefighter.
"The victim was wearing rubber fire fighter boots, and in conjunction with the small wall clearance, there would have been minimal footing on the ladder rungs," the report said.
"In several locations the fire escape rungs were approximately 2 to 3 inches from the exterior wall due to the decorative concrete trim."
Other means of access
Aerial ladders, ground ladders and interior staircases with bulk head doors should be used as a primary means of ingress and egress to roofs, instead of fire escapes, according to the report.
"Fire escapes are not usually a viable option because their structural condition can't be verified at the time of the incident," investigators said.
"Firefighters should assume that fire escapes are unsafe for use if they are rusty, have little or no paint, and/or if the masonry wall has missing mortar joints or cracked brick at the fire escape connection points."
Because fire escapes pose several potential hazards to firefighters, departments should have written SOGs on the use of fire escapes to ensure firefighters know procedures.
In this incident, the fire department only had an unwritten policy that fire escapes were considered a last resort for firefighters.
The report also recommends fire departments ensure company officers maintain tactical level accountability on the fireground, and evaluate fire prevention inspection guidelines to ensure they address high-hazard occupancies like restaurants.