Water supply, size-up issues cited in Texas egg plant LODD
Two captains entered the burning structure with an uncharged hose line and became disoriented after running low on air
---
WHARTON, Texas — An incomplete size-up, no water supply and the absence of an RIT team all contributed to the death of a Texas firefighter at a structure fire, according to a report.
Wharton Volunteer Fire Department Captain Thomas Araguz III ran low on air, became disoriented amid heavy dark smoke and died while fighting the fire at an egg production and processing facility on July 3 last year.
Capt. Araguz III had made entry with another captain with an uncharged hose line through the front door to find and extinguish the fire, but lost the hose line after becoming disoriented and called a Mayday that went unheard and was never acted upon, according to a NIOSH report released last week.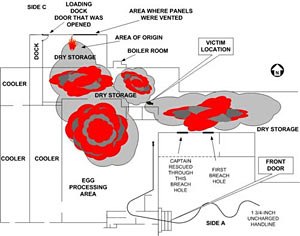 The pair became separated after running out of air and becoming more disoriented.
The other captain attempted to kick through part of a wall and was heard by firefighters outside, who breached the wall to rescue him.
Intense fire conditions prevented crews from further rescue efforts until they located Capt. Araguz III's body the next day.
Tactical shortcomings
Several tactical steps were not taken before the firefighters entered the building and contributed to the fatality, according to NIOSH.
"In this incident, a complete size-up was never conducted nor were geographical divisions assigned to manage the operations on multiple sides of the structures," the report said.
"Pre-planning information was not available on the construction features or any other potential hazards associated with the occupancy of this structure."
The lack of a water supply also factored into Araguz III's death, investigators said.
"Establishing adequate water supply on the fireground is one of the most critical elements of firefighting," the report said.
"The interior crew initially made entry with an uncharged handline, then attempted to locate and extinguish the fire in the 58,000 square foot processing building supplied only by the tank water on the initial engine and without a back-up handline."
A RIT was never established in the incident, which NIOSH says "should be designated and available to respond before interior attack operations begin at all fireground operations."
Further exacerbating fire conditions, improper ventilation occurred through actions uncoordinated with the interior fire suppression crew.
"Horizontal ventilation began when crews opened the door on the rear loading dock and a rear wall," the report said. "It was completed when the front door was opened to make an interior attack.
"This provided oxygen to the fire and allowed it to progress towards the front of the building."
Further safety recommendations
In addition to addressing these issues, NIOSH recommends fire departments reduce the risk of similar fatalities occurring in the future by:
● Training firefighters to communicate interior and exterior conditions to the incident commander as soon as possible and to provide regular updates
● Ensuring that firefighters receive the maximum benefit from their SCBA through training in air management techniques
● Ensuring that firefighters are trained and retrained on Mayday competencies
● Training firefighters to communicate interior and exterior conditions to the incident commander as soon as possible and to provide regular updates
● Ensuring that all firefighters and officers receive fundamental and annual refresher training according to NFPA 1001 Standard for Fire Fighter Professional Qualifications and NFPA 1021 Standard for Fire Officer Professional Qualifications
NIOSH also recommends manufacturers, equipment designers and researchers all "continue to develop and refine durable, easy-to-use radio systems to enhance verbal and radio communication with properly worn SCBA."
State offices responsible for enforcing fire protection codes should also develop written agreements with state and federal agencies who inspect agricultural facilities for food and sanitation requirements to advise them of fire and life safety hazards that could be reviewed during inspections, the report said.