Iowa city council approves options for FFs laid off in switch to all-PSO positions
Divisions in the community over the PSO program and the elimination of firefighter jobs have "broken my heart," council member Frank Darrah said
---
Andrew Wind
Waterloo-Cedar Falls Courier, Iowa
CEDAR FALLS — Eight firefighters who are losing their jobs will have a route to other municipal employment after the City Council Monday approved a task force's recommendations.
Meanwhile, concern about the COVID-19 pandemic is delaying next week's special election to fill an at-large seat on the council. Black Hawk County Auditor Grant Veeder announced the state has approved a request to postpone the election from March 24 to March 31. Absentee ballots will be sent to all active registered voters in an effort to encourage people to avoid gatherings and just one polling site will be open, at St. John Lutheran Church, 715 College St.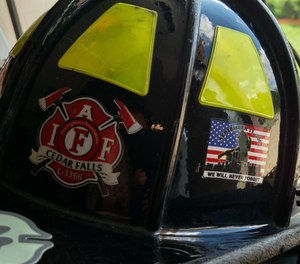 The council approved the task force recommendations 6-1 with Dave Sires dissenting. Sires didn't comment on his vote during the meeting, but said last week he would vote no because of his preference for separate police and firefighter positions.
Firefighters can apply for public safety officer and other available city positions, choose a five-month severance payment, or be laid off with no payment. They will receive a notice of layoff Monday. Those who don't seek another city job can remain on paid administrative leave until June 22 before signing a severance agreement or being laid off.
"I think there's some great options here, I hope the council will support these recommendations," council member Frank Darrah, who presided over the task force, said before the vote.
Divisions in the community over the PSO program and the elimination of firefighter jobs have "broken my heart," he added, so the work by the group of city officials to find common ground gave him hope. The proposals they came up with show "we do have a heart, we do care about the affect on people's lives."
But the effects of that division emerged briefly during the meeting. Council member Mark Miller brought up personal information about him posted on a Facebook page supporting the firefighters union. The information is also contained in a petition on Change.org calling for four of the council members to resign for their support of eliminating the firefighters' jobs.
"The public shaming side of this, I think, is absolutely unfortunate," said Miller. Among the concerns listed in the petition are alleged unpaid property taxes and his 2018 plea to operating a motor vehicle while intoxicated.
Miller said the taxes have been paid off. "I'm not evading my taxes, I'm not doing anything illegal. I needed to sell my house."
He also referenced some past challenges with the business he owns and declared: "No, I will not resign from this position."
Darrah noted some of what the task force brought to the council recognizes that "these people are going to be struggling for a while." One of those was extending paid leave into June, which goes beyond the 45-day minimum required by federal law before the firefighters are laid off.
Council member Simon Harding, who was on the task force, said continuing the leave "does add to their accrued pension" and simplified the options offered, which at one point included an early retirement incentive. He noted the longer time frame gives some of them "time to grieve" the loss their jobs.
The council's approval amended the job classification for public safety officers, cross-trained police and firefighters that are replacing the eliminated positions. A firefighter experience and certification requirement was added as an alternate to the education requirement of 60 college credits or an associate's degree.
Any future applicants for a PSO position would need to have completed Iowa's Firefighter I and II certifications and have five years of experience in the field if they don't meet the education requirements. All eight the firefighters meet those qualifications.
Those interested in the PSO positions would need to be trained through the Iowa Law Enforcement Academy either in April, this fall or next spring.
"There will be a screening process and if the applicant gets through the screening process, they'd start training right away," said City Attorney Kevin Rogers, a member of the task force. That would either be field training with Cedar Falls public safety department or the academy training, both of which are required.
Accepting a severance payment would release the city from the firefighters rights under their union contract, which would be preserved for any who choose to be laid off.
"If they pick the severance option, they would not be allowed to be recalled to their previous positions," said Jennifer Rodenbeck, task force member and the city's director of finance and business operations. She noted accepting the severance would not bar them from applying for another city position at a later point.
Eliminating the firefighter jobs will "cost five months of pay and cost five months of health insurance on top of paid administrative leave," said Rogers. "In total, that will be about nine months of pay for the firefighters."
———
©2020 Waterloo-Cedar Falls Courier (Waterloo, Iowa)
McClatchy-Tribune News Service