Who screws up 'the greatest job in the world' better than us?
The more we do things wrong and get away with it, the more they seem right
---
Who screws stuff up better than us? Sure, I know you will find other professions that have made the hall of fame of screw-ups, BUT there is a difference. We are the last chance for the public when they call us. They've tried everything else, and when they need us, they really need us.
They love us. They trust us. They count on us. In our business, with that kind of support, we have to actually try VERY hard to LOSE that respect.
So then, if we continue to proclaim that this is "the greatest job in the world," then what the hell are we doing? I don't ever recall cops, fast food workers, chiropodists or sanitation workers ever proclaiming with such emphasis (like we do), "THIS IS THE GREATEST JOB IN THE WORLD!" So why do we continue to screw up so often and so badly?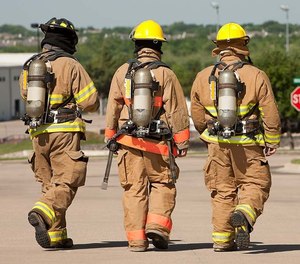 How does this happen?
Let's first consider some examples of what I mean here:
That's just a few. It's almost every day. I guess it was the firefighter reportedly wiping his butt with a copy of the department's COVID-19 order that got my attention.
In case you missed it, a Los Angeles City firefighter took a letter asking him to comply with the city's COVID vaccine mandate and wiped his butt with it, according to other firefighters. The unidentified firefighter was given the letter Nov. 18 and decided his best course of action was to use it as toilet paper, leaving "fecal matter" on the paper, the Los Angeles Times reported. The firefighter is on paid administrative leave as the LAFD investigates. 

The firefighter will probably be looking for a new job one way or the other because all Los Angeles city employees are required to get vaccinated by Dec. 18 or they'll be taken off duty and a firing process will be started, according to the media reports. The letters were simply meant to ensure everyone understood the process. 
Now before you get your underwear all twisted, this is not a pro- or anti-vaccination commentary. As far as I am concerned, we took an oath to protect the public and one another – that's the "greatest job in the world" and sometimes that comes with risk. High risk. Like building collapse. Flashover. Smoke explosions. Cancer. Vaccinations are between you and your department.
Remember Chief Edward Croker from the FDNY? His famous quotes included this relevant one: "Our proudest moment is to save lives. Under the impulse of such thoughts, the nobility of the occupation thrills us and stimulates us to do deeds of daring, even of supreme sacrifice."
We do whatever it takes. We do as ordered. Sometimes we don't like what we are being told. We have all been there.
That Los Angeles firefighter was within his rights to not like the order to be vaccinated. That firefighter (and those representing the firefighter) absolutely have a right to grieve or take legal action on something he doesn't believe to be fair. It does not matter if the IAFF, the IAFC and others are urging firefighters to get vaccinated. Individuals have rights. It's the nature of living in the United States and Canada.
But wipe his ass with the paper notification? How does that happen?!
I think it has something to do with the risk management theory known as "normalization of deviance." Basically, it's when we keep doing something wrong until it becomes so "normal" that it just kinda seems right, or when we continue to get away with something and not get redirected or caught, so we just keep doing it.
The more we do things wrong, the more they seem right. When our training fails. When reinforcement fails. When supervision fails. Or never existed.
How does this get fixed? 
While I am oversimplifying it, the answer here comes down to what is and what isn't accepted in our various firehouses and departments. Keep in mind that the culture of a firehouse versus the culture of that department can be far, far apart. However, unless you are THE chief, we, at the most basic level, can only control our firehouses.
Show me a well-trained disciplined crew under a tough but fair and honest fire officer who communicates and does what's expected by the department, and I'll show you a crew that does "the greatest job in the world" … as expected. They are leaders, they are ready, they turnout fast, they train all the time, their tools work every time, they care, and they love the job. They understand that (especially when things aren't going the way they would like) there is a "behavioral rental agreement" in how they are expected to act when doing "the greatest job in the world." My old pal Chief Rick Lasky calls it "pride and ownership." When there is pride and ownership at the company level, department orders (even ones we don't like) and a firefighter's own rear end never meet. 
As firefighters, we can get caught up with what heroes we are. The public tells us that. The media tells us that. We can buy T-shirts that tell ourselves that. Obviously, I am being cynical here; there are absolutely genuine heroes amongst us – generally the ones who are shy to acknowledge their act of bravery. Heroes.
Here's more from Chief Croker (in 1908) "... when a man becomes a fireman* his greatest act of bravery has been accomplished. What he does after that is all in the line of work …." (*I well understand and support the word firefighter; however, I am quoting exactly what Chief Croker said back then; no need to change history as long as we learn from it.)
With some of the things that our brothers and sisters are doing to make some ugly headlines, the paint may be fading on what the public perception (and respect) of a firefighter really is. 
But it's not too late to fix that. 
Not nationally. Not in your state. Not even in your region. Start in your firehouse. Career. Volunteer. Whatever. Start with the policies, the rules, the expectations, the constant training and the discipline. Reset your memory on why you signed up in the first place, and go back to that. 
If the job sucks that badly and there is absolutely nothing you can do about it, take a 1-2 week leave of absence. While on that leave, go back and work at the job you did before you were a firefighter – or at least try to imagine that. If that job is better (however you define that), then stay there and resign from "the greatest job in the world." But if not, you've hopefully regained some serious perspective to come back and get refocused on what's important to you and those who work with you. 
Picture in your mind some of your favorite firefighters. Maybe you've seen them speak. Maybe taken a class. Maybe read their books. Would they allow the above-described behavior? Would it even come to mind of the firefighters under their command? I don't think so. I don't think so because they (the leaders, formal or informal) set the tone in the firehouse, and they grew and developed a culture. Rest assured that there are fire departments where, no matter what butts get wiped where and how, the local public opinion will not be tainted.
This afternoon, I was at my grandson Camden's basketball game. On the wall of the gym was a sign that read:
+RESPECT YOURSELF – RESPECT ONE ANOTHER – RESPECT OUR HOUSE+
It wasn't the first time that I saw signs in schools that might be of value as signs in firehouses.