Benjamin Barksdale to be appointed Orlando fire chief
Barksdale, the current chief in Prince George's County, Md., will replace former Chief Roderick Williams, who stepped down amid sexual harassment allegations
---
By David Harris
Orlando Sentinel
ORLANDO, Fla. — Mayor Buddy Dyer will appoint a new chief Thursday to run the Orlando Fire Department, concluding a search that began when the previous chief abruptly resigned amid sexual harassment allegations in February.
Benjamin M. Barksdale, Jr. is the current fire chief of Prince George's County, Md. Dyer will make the appointment Thursday at a press conference at Orlando Fire Station 1 downtown.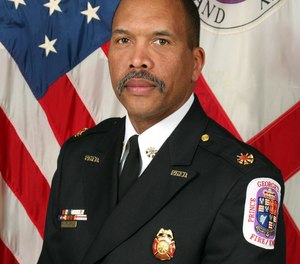 Barksdale will start on Nov. 15, the city said in a press release.
He will replace ex-Chief Roderick Williams, who stepped down after an EEOC investigation found support for claims that he and two deputy chiefs discriminated against a female assistant fire chief. In an EEOC complaint, she accused Williams of making inappropriate sexual advances during work and passing her over for promotions and recognition because of her gender.
The department also faced criticism of how it responded to the massacre at Pulse nightclub.
In the search, the city said it placed high value on diversity and inclusiveness.
"Under Chief Barksdale's tenure, his agency had a strong commitment to ensuring firefighters have access to mental health programs and treatment. Additionally, he comes from a diverse department where women and minorities hold prominent roles," a press release said.
Prince George's County has the largest combination municipal fire and EMS department in the U.S., with more than 2,500, including sworn and volunteer firefighters serving a population of 900,000, the release said.
Barksdale became a firefighter in 1987 with the Arlington (Va.) County Department. He responded to the 9/11 attack on the Pentagon in Washington D.C., and eventually rose to assistant fire chief.
Orlando contracted Atlanta-based Slavin Management Consultants and spent about $25,000 on the search.
———
©2019 The Orlando Sentinel (Orlando, Fla.)
McClatchy-Tribune News Service