Iowa House passes bill banning combined fire/police departments
The bill would prohibit the city of Cedar Falls from continuing its public safety officer program
---
Amie Rivers
Waterloo-Cedar Falls Courier, Iowa
CEDAR FALLS, Iowa — A bill that would ban Cedar Falls' combined fire and police departments passed the Iowa House and awaits action in the Senate.
House File 683, which passed the House 86-7 earlier this month, broadly allows cities, townships and counties to establish emergency response districts for fire protection.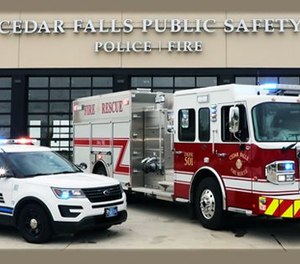 But tucked away in the middle of a section on municipal fire protection was the following sentence:
"... A city in which an institution of higher education governed by the state board of regents is located shall establish, house, equip, staff, uniform, and maintain a full-time, professional fire department that is separate from the city's police department."
It's a shot across the bow of the city of Cedar Falls, which happens to contain the University of Northern Iowa and a first-in-the-state public safety department with cross-trained police and fire personnel.
The paragraph appears to apply specifically to Cedar Falls; neither Iowa City nor Ames — home to the state's other regents universities — have combined departments.
The position of public safety officer was first approved by the Cedar Falls City Council in 2015 after the city's police union requested the option. By 2016, all new hires by the police and fire departments were cross-trained as PSOs, according to Public Safety Director Jeff Olson.
Nearly six years later, 68 of the 74 personnel are PSOs, and Olson expects that to reach 100% in 10 years.
"When people see it, more and more they support it," Olson told The Courier earlier this month.
Cedar Falls legislators were split on the bill: Rep. Bob Kressig of District 59 voted for it, while Rep. Dave Williams of District 60 voted against it. Both are Democrats, as are both of Waterloo's representatives, who voted for the bill.
Kressig wrote in an email to The Courier that he liked the bill as a whole, and noted it was supported by the state fire marshal. He added that Cedar Falls' combined department is a concern.
"The Cedar Falls PSO program has created significant divisions in the community," Kressig said.
Rep. Sandy Salmon, a Republican representing Janesville — a city that pulled out of its mutual aid agreement with Cedar Falls over its lack of full-time firefighters — voted for the bill as well.
Sen. Eric Giddens, a Democrat representing Cedar Falls, said Wednesday the bill was "only assigned today to the Senate's State Government Committee," and wouldn't comment on it "until I know more about its status in the Senate."
At-large Cedar Falls City Councilman Dave Sires, an opponent of the city's combined department, was glad to see the bill advance. He finds himself in the minority on the council in wanting to disband the city's combined force and bring back two departments.
"Why can't these guys look and see, 'Hey this isn't working?'" Sires said. "It affects all the surrounding communities too, not just Cedar Falls."
But transitioning back to separate fire and police departments could cost Cedar Falls taxpayers an estimated $2 million per year, according to the Iowa Legislature's fiscal services division. UNI would pay an extra $112,000 per year, an increase of nearly 20% from the $564,000 it pays annually.
Mayor Rob Green declined to comment on the bill, saying doing so "would be premature" since it has yet to pass.
"The city of Cedar Falls and its public safety personnel will continue to safeguard our community no matter how (the) organization chart looks," Green told The Courier.
The city of Cedar Falls' two lobbyists registered against the bill, as did a lobbyist for former Cedar Falls Mayor Jim Brown and three lobbyists from the Iowa League of Cities.
Sires' wife operates the NO PSOs political action committee, he said, and sent a lobbyist to Des Moines to advocate for the bill's passage. Another five lobbyists from the Iowa Professional Fire Fighters union also registered in support of it, according to a state lobbying registry.
The vast majority of lobbyists from other cities and groups representing police and public safety officials were registered as undecided.
Though it hasn't progressed in the Senate, Sires remained optimistic it would, noting he would like to stand with Gov. Kim Reynolds as she signs it.
"I hope I'm not being too happy too soon," he said.
___
(c)2021 Waterloo-Cedar Falls Courier (Waterloo, Iowa)
McClatchy-Tribune News Service