Fla. responders to give naloxone kits to families of overdose patients
Project Leave Behind provides Orange County responders with naloxone kits to distribute to the families of those treated for overdoses
---
ORANGE COUNTY, Fla. — A new program will allow responders to give out naloxone kits to the families of overdose patients.
According to a press release, Orange County Mayor Teresa Jacobs, Orange County Fire Department Chief Otto Drozd III and Medical Director Dr. Christian Zuver announced Project Leave Behind, which supplies the department with naloxone kits to give to the families and loved ones of those treated for an overdose.
"Since 2015, when I convened the Orange County Heroin Task Force, my commitment has been to ensure that Orange County has remained on the forefront of helping individuals and their families in battling the heartbreak of addiction," Mayor Jacobs said. "Project Leave Behind is about saving lives. While these kits include the lifesaving drug naloxone, they also include essential information on local treatment resources, as well as prevention tools."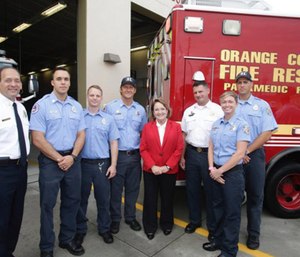 Chief Drozd said the kits are a "true partnership between family and first responder."
"I often remind myself, and encourage crews to remember, that every call is a call to someone's loved one," he said. "My goal is that through Project Leave Behind, we equip loved ones with a series of tangible actions, proper instruction and a lifesaving tool to be initiated while help is on the way."
Crews will briefly train individuals who receive the kits on how to administer the naloxone and what to do before help arrives.
"Research shows that naloxone begins to reverse the effects of opioids 1-2 minutes after administration,"Zuver said. "Evidence supports that early administration saves lives. We've been provided with an initial supply of 326 doses, with the anticipation of additional doses as needed."