LODD: Ark. Capt. stricken on EMS call, dies
Poyen Fire Capt. Dennis Channell, 54, suffered a stroke while on a medical call Sunday night
---
POYEN, Ark. — A fire captain died Monday after reportedly suffering a stroke while on a medical call.
ArkansasMatters reported that Poyen Fire Capt. Dennis Channell, 54, suffered a stroke on Sunday night and died Monday afternoon.
"He was here for as long as anybody can remember us having a fire department," Fire Chaplin Mike Sullivan said. "In a larger full-time department it hurts anyway, but when these are volunteers, when these are regular men who are just trying to make a difference, it's very difficult."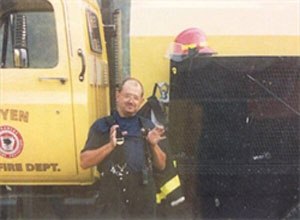 Fire Chief Claude Hardin said firefighter Channell was very active with the department and he helped raise money for the department's yellow engine, according to Fox16.
Visitation will be from 6-8 p.m. Friday and funeral services will be at 10 a.m. Saturday at Regency Funeral Home.