Okla. fire department is using grass rigs for medical calls
Chief Joe Jackson and Fire Marshal Ken Helms said the switch was made to reduce the cost of maintenance on the engines and rescue trucks
---
By Cass Rains
Enid News & Eagle, Okla.
ENID, Okla. — Enid Fire Department has begun sending grass rigs on medical calls in lieu of engines and rescue trucks in an effort to reduce wear and tear on the more expensive vehicles.
Chief Joe Jackson and Fire Marshal Ken Helms said the switch was made to reduce the amounts, and cost, of maintenance on the engines and rescue trucks, which can cost hundreds of thousands of dollars. The grass rigs, with platforms built on full-sized pickups, are cheaper to maintain, fuel and replace.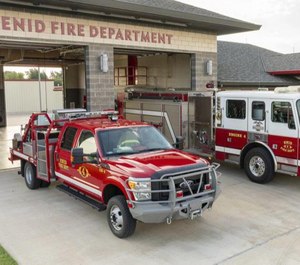 Helms said each year the call volume for the department increases, and medical calls account for the majority of their responses.
"It still grows some every year, and most of that growth is in medical emergencies and help-lift calls," Helms said.
In the first half of the year, he said there were more than 2,700 calls responded to by firefighters. Sixty-eight percent of those calls were for medical emergencies and help-lift assists.
"We want to transfer some of that wear and tear to these smaller trucks," Helms said. "It should give us some significant cost savings overall."
Jackson said the grass rigs had some of the lowest call response volumes in the department's fleet.
"Grass rigs may sit in the station all year long and rack up less than a dozen calls," he said. "We need to transfer some of that work load to the smaller trucks."
He said the department has purchased duplicate medical equipment to be carried on the grass rigs so the equipment is not taken from another truck that could have a need for it.
"We're trying to keep three engines available at all times for structure fires and limit medical or help lift calls to two out at a time," he said.
If an engine and grass rig are both at a station when a medical or help-lift call comes in, the grass rig will be dispatched.
Jackson said when he began his career with the department, it was rare for an engine to accumulate more than 100,000 miles in a 20-year lifespan.
"Now, we've got one with 112,000 with 15 years," Jackson said. "The higher-cost apparatus like the engines, and large rescues, we need to extend the life of that."
———
©2019 the Enid News & Eagle (Enid, Okla.)
McClatchy-Tribune News Service