NH Sen. secures additional $10M for first ever national PFAS health study
PFAS are man-made chemicals that have been used in products worldwide since the 1950s, including firefighting foam
---
Jeff McMenemy
Portsmouth Herald, N.H.
PORTSMOUTH, NH — U.S. Sen. Jeanne Shaheen secured an additional $10 million for the first ever national PFAS health study in the 2020 National Defense Authorization Act.
The Senate's Armed Service Committee passed the annual Defense Authorization Act on Wednesday and it will now go to the full Senate.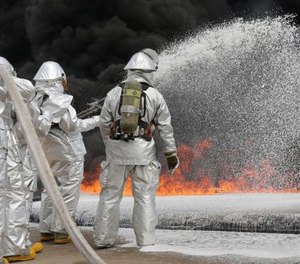 Shaheen has repeatedly secured funds for the national study on the health effects of people exposed to PFAS in drinking water, which she established in the fiscal year 2018 National Defense Authorization Act.
Shaheen and the rest of the state's congressional delegation also fought successfully to have the Agency For Toxic Substances and Disease Registry, which is conducting the study, have Pease serve as the model site for the national health study.
Thousands of people working at Pease International Tradeport, along with children and infants who attended two day-care centers there, were exposed to multiple PFAS chemicals from contaminated water in the city-owned Haven well until its closure in 2014. The tradeport is located at the former Air Force base, a Superfund cleanup site. The city closed the well in May 2014 after the Air Force found high levels of perfluorooctane sulfonic acid, or PFOS. a dangerous PFAS chemical.
PFAS are man-made chemicals that have been used in products worldwide since the 1950s, including firefighting foam, non-stick cookware and water-repellent fabrics and carpet. They also have a range of applications in the aerospace, aviation, automotive and electronics industries, among others.
The PFAS that contaminated the Haven well came from firefighting foam.
In addition to the health study funding, Shaheen also worked to secure a prohibition on the Department of Defense from procuring firefighting foam containing PFAS after Oct. 1, 2022.
"PFAS exposure has been linked to adverse health effects and contamination has required substantial remediation efforts in New Hampshire and across the country. The Department of Defense should be working proactively to eliminate its use in firefighting foam in order to prevent further harm," Shaheen said Thursday. "Our service members and firefighters are occupationally more likely to come into contact with these chemicals, as are communities in the vicinity of military bases that use firefighting foam containing PFAS. Prevention needs to be part of our plan to combat PFAS exposure, which is why phasing out this type of firefighting foam is a necessary step forward."
ATSDR states PFAS exposure can increase cancer risk, lower a woman's chance of getting pregnant, interfere with the body's hormones and affect growth, learning and behavior of infants and older children.
The Defense Authorization Act includes a provision from legislation Shaheen sponsored with U.S. Sen. Lisa Murkowski, R-Alaska. The provision of the bipartisan Protecting Military Firefighters from PFAS Act will require the DoD to include blood testing for PFAS as part of routine physicals for military firefighters.
———
©2019 Portsmouth Herald, N.H.
Distributed by Tribune Content Agency, LLC.
McClatchy-Tribune News Service