Fire prevention class teaching tips
Fire prevention classes are a great way to connect to the community and demonstrate the value of a department
---
By Brian Benedict
Firefighters often take our role within the community for granted. From rural volunteer departments to the largest career departments, prevention seems to be on the back burner until Fire Prevention Week rolls around.
Traveling throughout the Midwest, I have seen many departments dissolve their prevention bureaus due to budget and personnel cuts. It's virtually impossible, however, to put a price tag on a strong prevention bureau.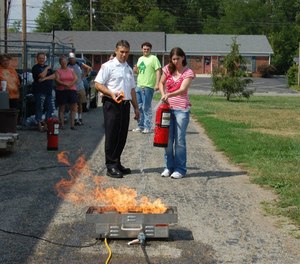 The reality is that fire prevention is one of the most important ways that departments communicate their value to city leaders, business owners and the generations to come. Prevention as a backbone to relationship building will positively impact our future in a variety of ways.
How fire prevention classes offer a community connection
What types of prevention classes should we be teaching? Fire prevention is useful to the community in a variety of ways. The most popular is showing school children the fire truck and explaining basic safety tips, such as "stop, drop and roll."
It is perhaps our most important programs that are overlooked, though, such as our speaking engagements at Kiwanis or Lions Club meetings. Teaching employees and residents the importance of emergency plans, escape routes and fire extinguishers at senior homes, group homes and disability care centers does more than just promote fire prevention; it impacts our long-term well-being, increasing the value, trust and professionalism within the community.
So, what are some tips, tricks and techniques that we can use to communicate our message? I've seen firefighters present stellar prevention classes, and I've also witnessed epic and embarrassing failures.
The first obstacle for us is to realize that rank, title and experience don't constitute an effective teacher. I recommend that we all keep an open mind and learn from each encounter.
Ask yourself, "What could I have done better? What could I have said differently or more effectively? How could I have connected better with the kids or adults?" Too many times we see these classes as a nuisance in our schedule, but in reality, it's the best networking tool and most underutilized asset we have to grow our value within our cities.
To get started, let's review some lessons we have learned, and then hit on a few best practices.  
Three lessons learned during fire prevention classes
There are three key lessons that firefighters have learned through the years of giving fire prevention classes:
1. Don't talk about pension or contract negotiations during any prevention class. Some firefighters will start off speaking to kids about the fire truck and within minutes turn their attention to the parents and start discussing irrelevant information.
2. Don't talk about or hand anyone a card or information for your side job. This is a bad practice and will lower your credibility among the public.
3. Don't make cynical, sarcastic, sexist jokes or comments during your presentation. The banter and zingers we give each other are perceived as unprofessional to the typical civilian. You can be better than that.
Three ways to connect with community
Here are three tips for connecting with community members:
1. Learn soft skills. Soft skills are what allow us to relate to other people. We typically are skilled in knowledge-based skill sets. Soft skills are interpersonal and encompass optimism, empathy, effective communication, attentive listening, networking, self-confidence and professionalism.
2. While showing kids the engine, relate the equipment to what they have in their parents' shed or garage. In other words, explain that the only difference between our hose and the one at your house is that ours is larger, and that we have a spray nozzle on one end and connect the other to the fire engine. Then we use the pump panel to turn the water on and off, just like they do at home. Ladders, brooms, rakes, axes and horns can all be related to similar items found inside their homes as well.

Remember, these programs are typically given to groups of students where the average age is between 4 and 8; this means words such as attack line, supply hose and hosebed lays don't compute in their minds. Keep it simple.
3. When speaking in front of adults, slow your speech and pronounce your words clearly. Too many times, we get in a hurry and unconsciously slur our words. It may be the fifth time we've presented the program in a given week, but that's no excuse. Keep in mind that each group must have the same attention given to them as the first. In addition, some individuals may have hearing loss and struggle to grasp each word you say. Because of this, you must slow down, speak up and pronounce words clearly and with confidence.
Good luck with your fire prevention messages!
About the Author
Brian Benedict is a retired firefighter now serving as an insurance professional. He previously worked as a firefighter for the Richmond (Indiana) Fire Department for 20 years.