The history of Fire Prevention Week
From the story of Mrs. O'Leary's cow to the annual observations that bring fire safety messages to millions
---
By Susan McKelvey
Fire Prevention Week is an annual weeklong event focused on educating children and adults about how to stay safe in case of a fire. Firefighters, advocates and educators provide lifesaving public education in an effort to decrease the number of casualties caused by fires.
Let's review the origin of Fire Prevention Week and how its messages reach thousands across the country year after year.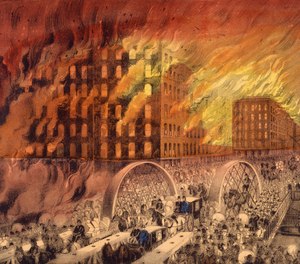 Where it all began
Fire Prevention Week is observed annually during the week of Oct. 9 in commemoration of the Great Chicago Fire. That fire began on Oct. 8, 1871, when, as the story goes, Mrs. O'Leary's cow kicked over a lantern in her barn. The conflagration killed more than 250 people, left 100,000 homeless, destroyed more than 17,400 structures, and burned more than 2,000 acres of land.
On the 40th anniversary of the Great Chicago Fire in 1911, the Fire Marshals Association of North America, the oldest membership section of the NFPA, sponsored the first National Fire Prevention Day in an effort to keep the public informed about the importance of fire prevention.
In 1919, the NFPA held its 23rd annual meeting in Ottawa at the invitation of the Dominion Fire Prevention Association (DFPA). Both groups passed resolutions urging governments in the United States and Canada to support the campaign for a common Fire Prevention Day. In the United States, the first Fire Prevention Day proclamation was issued by President Woodrow Wilson in 1920. 
Fire Prevention Day was ultimately expanded to Fire Prevention Week for which the NFPA has been the official sponsor since 1922.
In 1925, President Calvin Coolidge proclaimed Fire Prevention Week a national observance. As the week has been observed every year since, Fire Prevention Week is the nation's longest-running public health observance on record.
Fire safety themes through the years
At its core, Fire Prevention Week is a grassroots campaign that fire departments and fire safety advocates bring to life in their communities each year. These events present an ideal opportunity to educate the public about home fire safety risks and how to minimize them.
Each Fire Prevention Week has a theme – an area of focus for firefighters, advocates and educators to address in their fire safety messages. The NFPA selects the annual theme.
Some examples of previous Fire Prevention Week themes:
Learn the sounds of fire safety
Serve up fire service in the kitchen
Not every hero wears a cape. Plan and practice your escape
Every second counts – plan two ways out
NFPA is celebrating the 100th anniversary of FPW from Oct. 9–15 with the theme, "Fire won't wait. Plan your escape," which works to educate people about the speed at which fires grow and spread, the small window of time they have to escape from the time the smoke alarm sounds, and how to use that time wisely to get out as quickly and safely as possible. These messages come at a critical time. Today's homes burn faster than ever, greatly reducing the amount of time people have to safely escape a home fire.
FPW resources
NFPA offers a wealth of resources and materials for fire departments and other educators working to promote Fire Prevention Week, including videos, safety tips sheets, social media cards and more. Visit the Fire Prevention Week website to access a toolkit with activities for kids of all ages as well downloadable materials that simplify planning.
About the Author
Susan McKelvey is the communications manager for the NFPA, a global nonprofit organization devoted to eliminating death, injury, property and economic loss due to fire, electrical and related hazards. NFPA is the official sponsor of Fire Prevention Week.