How today's public fire departments were born from private fire brigades
The evolution of emergency services provided by municipal fire departments and the fire service budget
---
The challenge of fire defense involves finding the right level of protection to prevent conflagrations – a fire defense that efficiently suppresses the frequent small fire while retaining capacity for the occasional large fire. Firefighting in the modern era has included both private companies and public organizations.
The first organized public fire service is described in a 1690 book written by Jan van der Heyden, the city fire master of Amsterdam. The book – the first manual on firefighting – provides descriptions and detailed drawings of fire equipment, pumps and actual building fires.
Van der Heyden first used hoses to move water between portable pumps to fight fires. While his leather fire hose was subject to rot, his small pumps were highly efficient. In fact, the British Royal Navy preferred the small Dutch pumps to the larger English-made versions. Crews were issued individually numbered brass tags which were held by the chief officer during the fire. Only the men whose numbers were recorded as present at the fire received their stipend.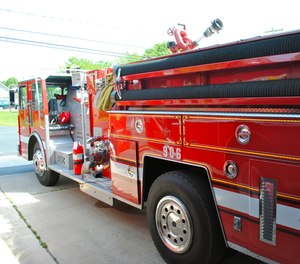 Forming municipal fire departments
The next treatise on firefighting, written in 1830 by James Braidwood, the master of fire engines in the city of Edinburgh, describes the organization of a municipal fire department controlled by the city government. In contrast, the city of London at this time was protected by a consortium of fire brigades funded by the insurance industry.
The concept of insurance underwriting was born in London coffeehouses where ship owners, merchants and financiers met to discuss the perils of shipping goods. One such venue owned by Edward Lloyd evolved into Lloyds of London. A shipper seeking protection from loss would seek individuals to underwrite the venture by providing insurance against potential loss at sea. It is within that context that London chose to address its fire problem with insurance supported fire brigades.
Insurance-based fire protection appears to make good sense, only paid subscribers receive protection. What soon becomes evident under that system is the fact that letting uninsured buildings burn threatens insured buildings. In a densely built city, you simply cannot stand by and allow the fire in one building to spread to adjacent structures. Fire does not respect boundaries or insured vs. the uninsured. London recognized this fact, but they were not ready to drop the insurance brigades entirely. Instead, they hired Braidwood based on his work organizing Edinburgh's fire service. He thus became the master of the reorganized London Fire Engine Establishment.
Braidwood worked miracles with the numerous insurance brigades to create a disciplined fire defense force. He coined the term "seat of the fire," instructing his men to advance to the origin of the fire and apply water. He required his men to work in pairs for safety reasons. He also created a mission for the families of fallen firefighters. Buried under a falling wall, he died in an 1861 warehouse fire. Beloved by the people of London, he received one of the largest funerals ever held in the city, with royalty turning out to pay respect.
Insurance-based fire protection
The mid-1860s saw London and New York reorganize their firefighting forces, creating metropolitan departments under city government control. Even so, the insurance industry maintained a special salvage corps to work alongside the FDNY in New York City. For all intent and purpose, insurance-based fire protection was inadequate for protecting a large urban city. There was no profit to be made in fighting fires, especially when strategy and tactics dictated that all fires must be suppressed to prevent conflagrations. 
The social and economic problems of the 1960s and early-70s placed a strain on municipal budgets. This forced fire chiefs into a position of having to justify department budget requests. The fire service was now clearly competing for tax dollars against the needs of police, schools and public works departments. The problem of justification for fire chiefs was the decline in serious fires after the introduction of affordable smoke detector technology in the 1970s.
In this environment, attempts were made to make the fire service seem more relevant. This was achieved by adding services such as hazmat, EMS and technical rescue to show that firefighters could adapt to change.
But municipal budgets already under stress could not support new services. The answer to funding non-traditional services came from the idea of charging fees to the users of these services. In very general terms, we have now come to view or accept fighting fires as something the community-at-large pays for through taxes, while EMS and other special services are supported through special fees. Because fee collection requires special skills, it has become increasingly necessary for fire departments to contract with the private sector.