Q&A: Using physiological data to enhance firefighter safety
Improving firefighter safety and survival through science, medicine and technology
---
We're collecting a wealth of information about fire behavior and fire service response. FireRescue1's special coverage series, Embracing the data revolution in the fire service, sponsored by ESO, explores strategies for translating this data to actionable steps to improve operations, optimally direct fire response and maximize firefighter safety.

By Robert Avsec
Firefighters and fire officers have access to innovative technology and enhancements that help keep firefighting safer, and more effective and efficient. In-mask thermal imaging, computer-aided dispatch systems, GPS-enabled firefighter tracking systems, and the use of unmanned aircraft systems are just a few of the examples that readily come to mind.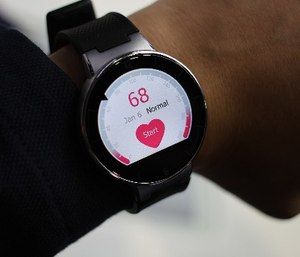 One area of technology that's garnering more attention is gathering physiological data from firefighters and using that data to develop strategies for advancing firefighter safety and survivability. Think of that FitBit or smart watch on your wrist that collects data to help motivate you to reach your health and fitness goals by tracking your activity, exercise, sleep, weight and more. That's a good example of a physiological monitoring device.
The SMARTER Project
Since 2004, the National Fallen Firefighters Foundation has partnered with organizations that are advancing firefighter safety and survivability. A recent collaboration had the NFFF working with the SMARTER Project (Science Medicine and Research & Technology for Emergency Responders) on a symposium to reduce firefighter line-of-duty deaths through the application of science, medicine and technology.
On Skidmore's Saratoga Springs (N.Y.) campus, Denise Smith, Ph.D., is the laboratory director for the First Responder Health and Safety Laboratory. She also serves as the principal investigator for the SMARTER Project which seeks scientific advances, medical knowledge, research findings and technological solutions to reduce firefighter injuries and fatalities. Dr. Smith and her team at SMARTER are focused on three types of risk for a firefighter injury, fatality or toxic exposure:
A sudden cardiac event (e.g., heart attack or stroke) during or following firefighting operations or training exercises.
Heat-related injuries and fatalities during or following firefighting operations or training exercises.
Exposure to airborne contaminants during firefighting operations and in structures following a fire.
The SMARTER study is supported by the DHS/FEMA Grant Directorate for the Assistance to Firefighters Grant Program – Fire Prevention and Safety Grant.
At the Firefighter Physiological Monitoring Technology Summit in Washington, D.C., attendees learned more about some of the most promising advances in the field of physiological monitoring for the fire service, and were updated on the SMARTER Project's grant-related activities designed to explore how this technology can be used for the fire service.
Casey Grant, executive director of the National Fire Protection Association Foundation, delivered the keynote address, "The Future of Wearable Technology," during which he spoke about wearable technology for physiological monitoring of firefighters. One of the key features of Grant's comprehensive review of the current technology and its future is best presented using a slide from his presentation at the summit. See Figure 1.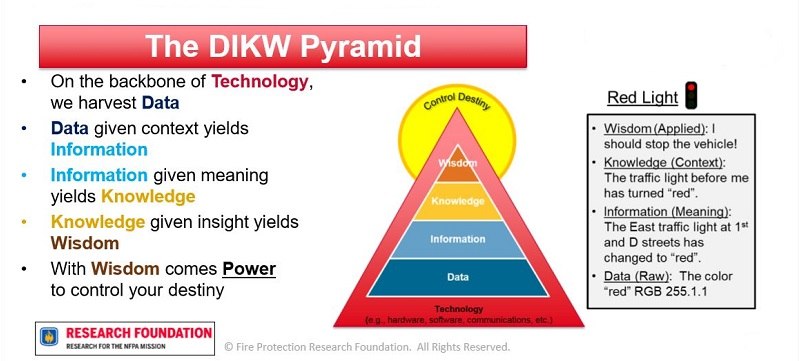 Photo Source: Casey Grant/Fire Protection Research Foundation
Grant's DIKW Pyramid makes the point that while the technology is the backbone for any data collection system, it is only the vehicle for collecting data. The true value of that collected data is how it is processed into information, then knowledge and ultimately, wisdom.
Smith shared with summit attendees what some of the data coming out of the SMARTER program looked like for three topics:
The use of wearable ECG technology to detect early signs of cardiac events following firefighting or training exercises.
The use of algorithms to estimate core temperature to reduce the risk of heat related injuries and fatalities.
The use of low cost, portable technology to monitor air contamination levels on the fireground and in structures after a fire.
I had the opportunity to speak recently with Dr. Smith regarding the summit and the SMARTER project. Here's what she had to say.
FireRescue1: What were some of your takeaways from the summit?
Denise Smith: Wearable technologies are all around us today with FitBit monitors and Polar watches and all sorts of gadgets that track our activity and workouts and sleep. So, it only makes sense to explore the potential use of that [technology] in firefighting.
What really peaks my interest is how we can use the data we obtain. Sure, we can monitor firefighters 24 hours a day, but who's going to take the time to look at all that data. And what are you going to do with it?
So, I'm guessing you've got an end-game in mind?
I do. So, we partnered with a local fire department, Hanover Park Fire Department, and had their firefighters – about 50 of them – wear T-shirts that were specially designed for us by Globe that had the monitors embedded in the shirt. They wore them for about four months and we were able to gather lots of data on their heart rate; estimated core body temperature; breathing patterns; and activity levels during firefighting, training, rest periods and such.
What did you get out of all that data?
First, we now have a pretty good idea that it's not feasible for firefighters to wear a snug-fitting T-shirt with tight strap around it – it's more like a bra – with this monitoring technology 24 hours a day, every day. And why would you want them to do it?
Secondly, how would you even begin to process that much data coming in on a daily basis? But we knew that if we could do it within a fire department, it would give us a better idea of what's feasible, what is practical and what is useful. The technology itself is inviting, but knowing what'd you'd do with the information if you had it, is really kind of the bottom-line, the game changer in my mind.
And to be honest, what we can currently measure is minimal. Sure, we know your heart rate goes up dramatically when fighting a fire, but we already knew that. And are you really going to pull a firefighter out of a fire because their heart rate is elevated? No, because an elevated heart rate by itself is not a predictor of a cardiac event.
Where do you see the applicability of the current research today? Where is it going in the future?
I think many people see the monitoring of physiological data for firefighters as some sort of silver bullet, but I don't think we're there. The technology is just not advanced enough. Sure, we can get some ECG and estimated core body temperature and heart rate, but we can't use that information to predict future events. And that data is not in real-time, it's recorded.
Even when we know a patient is at risk, even when you think about something like the ICU, they're monitoring patients but that doesn't give them the ability to predict who's going to have a problem. Doctors and nurses in an ICU have access to all kinds of physiological data for a patient and they can't use that information to predict a bad outcome.
So, what is it we want to do with physiological data to improve firefighter safety and health?
I think the information we can currently capture is very useful for on-site firefighter rehab. Instead of coming into rehab and getting your heart rate and other vital signs evaluated initially and then 10 minutes later, EMS personnel in rehab could see what your heart rate was during firefighting operations and be able to see what it's doing when you get to rehab and then 10 minutes later. Now you'd have three snapshots of what's happening with heart rate, not just two, and that gives you a better sense of how they're recovering.
The same applies to estimated core body temperature. You'd get a much clearer picture of how your rehydration and cooling efforts are working to reduce an elevated core body temperature if you knew what your estimated core temperature was in the work zone, what it was when you entered rehab, and what it is now that you've spent 10 minutes cooling and hydrating.
So, I think in rehab, using this technology to get core temperature and heart rate data can be extremely useful in doing something we're already doing but doing it better.
Beyond that, I think we're just scratching the surface of what can be done. With continued improvement to current technology, and new advances in the future, I really believe that we're going to keep improving what data we're able to gather and how we turn that into useful information. And that's what keeps me really excited about this stuff.

Request product info from top Fire Data Management companies
Thank You!