Seattle Fire Foundation seeks to purchase body armor for FFs amid riots
The nonprofit has set a goal of $130,000 to go toward outfitting every city firefighter with body armor and helmets
---
By Laura French
SEATTLE — The nonprofit Seattle Fire Foundation is seeking to raise enough funds to provide every Seattle firefighter with body armor amidst ongoing riots. 
Seattle Fire Foundation Founder and President Debbie Steinhauer told KOMO News that the organization is seeking to purchase helmets and specially designed ballistic vests that include pockets for carrying medical equipment.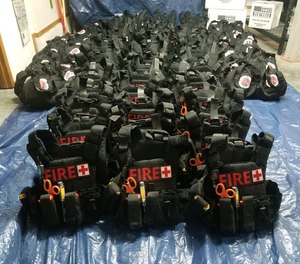 The foundation has set a goal to raise $130,000 by Labor Day.
Last year, the department received 70 sets of body armor and helmets following a series of deadly shootings in Lake City. Steinhauer says the foundation ultimately hopes to buy enough body armor to equip the entire department. 
Earlier this week, a riot was declared in the city after six police officers were injured by explosives and treated by Seattle Fire Department personnel, according to the Seattle Police Department.