Simple, versatile pike pole gets accessorized
After hundreds of years of service, the pike pole remains a stalwart of the fire service, but that doesn't mean it has gone unchanged
---
The humble pike pole's entry into the U.S. fire service began in the 1600s when it was used to pull down walls and neighboring buildings in the path of a fire to stop the fire's spread. Also known as a ceiling hook, the pike pole is the "hook" in a hook-and-ladder company, also known as a truck company.
Pike poles have remained the preferred tool to tear through sheetrock and ceilings to find hot spots and hidden fires.
Modern pike poles have wood or fiberglass handles and generally come in lengths ranging from 4 to 14 feet. The hook enables the user to pull debris from a distance, and the more recently added D-handle at the end makes it easier to use.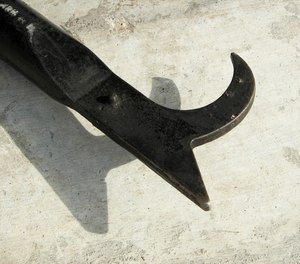 Always use the right tool for the job. The pike pole is not a prying tool; it is a pulling and pushing tool. Most do not have handles suited for the lateral pressures of prying, nor are the metal heads constructed to withstand shear stress.
Putting it to work
When pulling ceilings, always drive the pole up through the ceiling, step back and then pull down in front of you so as not to pull the ceiling down on top of your head. People store things everywhere these days, so you never know what is above you or how much is going to come down when you make that pull.
Even if the pole has a D-handle grip at the end, always drive the pike pole up into the ceiling with both your hands on the shaft. It can be extremely painful and damaging if you drive with your hand on that handle and strike a floor joist or some other hard obstruction — and you could even break a wrist. Keeping your hands on the shaft makes it more likely that your hands will slide and you will not be injured if you hit an obstruction.
After the pike is driven through the ceiling, make a quarter turn with the tool so as to get a bigger bite of the ceiling.
While pike poles work in drywall, there may be better choices, such as a plaster hook or sheetrock puller, to pull shiplap.
Keeping it clean
Pike poles with wooden handles should receive the same care and treatment as your other wooden-handled tools. After every use, clean dirt and other debris from the handle using a mild detergent and water solution, rinse completely with clear water, and wipe dry with a clean cloth.
Give the handle a close visual inspection to identify any splintering, cracking or other damage. Take a clean and dry cloth and slowly run it up and down the handle to help you locate damage that may not be readily visible.
Use a medium grit sandpaper to smooth out any minor injuries to your tool's handle, and then finish it off by applying a light coat of boiled linseed oil to protect the wood from moisture damage.
Lastly, ensure that the head of the pike pole is still firmly affixed in its proper position.
One advantage of the wooden-handle pike poles is you can file finger grooves near the end of the handle for a better grip. If those grooves are on the same side of the pole as the pike, you'll know the location of the pike's hook after it is driven into the ceiling.
For fiberglass handles, the process should be relatively similar. Pay close attention during the visual inspection so that you don't miss any splinters or burrs on the handle. It's been my observation that fiberglass splinters or burrs tend to be a bit more "lethal" to hands than their wooden cousins. They are also harder to locate and remove from human tissue.
New pike poles
The key is choosing the right length pike pole for the job. Unfortunately, we don't know what we're going to encounter when we show up to a fire.
Leader-North America's telescopic pike pole weighs 6.5 pounds and, when fully retracted, measures 7 feet 2 inches. Fully extended, the telescopic pike pole measures 12 feet 3 inches.
This concept isn't new. Window washers have been using telescoping wands for years, and we're comfortable using extension ground ladders.
A firefighter can lock the pike pole at any length between 7 and 12 feet by twisting the center locking mechanism clockwise to lock and counterclockwise to release. It has a carbon steel head and insulates up to 20,000 volts of electricity, a comforting safety feature
When I saw The Hook System from All Hands Fire Equipment, the first thing that came to mind was hybrid, and in a good way. All Hands developed The Hook System for engine companies and departments that have limited equipment storage space on their apparatus.
The Hook System is made up of four types of hook heads and two sections of handles. A firefighter connects the units — which have stainless-steel male and female threaded connections — to form a functional use of various heads and workable heights.
For example, take one section of handle, attach the all-purpose head and the ram knob, and you have a 6-foot-long pike pole. Remove the ram knob and attach a 1.5-inch hook, a 2.5-foot handle, and you've now got a pike pole with an overall length of approximately 9 feet. 
No long tubes or spacious compartments are needed to store The Hook System on your apparatus because of its sectional construction.
A versatile tool
Pike poles have earned their place among the more valuable and versatile tools in the firefighter's cadre of tools; the pike pole has maintained that status even as the list of competitors in the push/pull tool category has grown. 
Now that we no longer routinely have to pull down buildings in a fire's path, what's your go-to tool for pulling and prying ceilings and wall coverings? 
[Read next: Hooks and history: How pike poles came to be a firefighter's most trusted tool]