A weight off my shoulders … and the rest of me
A once obese firefighter, I now have the confidence needed to not only meet my job expectations but excel at them
---
FireRescue1 Voices is a place where firefighters across the country can speak up, tell their stories about difficult calls and voice their opinions. If you want to share your story with the FireRescue1 community, please review our submission guidelines and email editor@firerescue1.com.
"Rates of overweight and obese individuals in the fire service are higher than those found in the general public, ranging from 73 percent to 88 percent of firefighters."
This disturbing finding comes to us from the National Volunteer Fire Council.
Other major fire service organizations have come to similar conclusions, with further research showing the outcomes of our poor health. The National Institute for Occupational Safety and Health (NIOSH) reports that in 2019, over 50% of all line-of-duty deaths (LODDs) were the result of sudden cardiac arrest.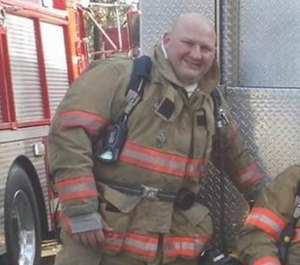 We've been hearing these stats for years – but that doesn't always mean we take action to avoid becoming a statistic ourselves.
"I was falling behind"
I cannot remember a time in my adult life, or most of my childhood for that matter, that I was not overweight. It was a constant struggle. I ate from boredom, I ate from depression, I ate just to eat. I did not have healthy habits.
Slowly I went from husky to chubby to big to fat to morbidly obese. Much like a frog in a pot of heated water, the change was so gradual that I didn't notice it was killing me. I didn't wake up one morning overweight; it was a series of bad choices and poor self-care that led me to my own downfall.
Throughout my fire service career, I constantly felt that I had to work harder and do more simply to break even with the "in-shape" firefighters. But if I was being honest with myself, I wasn't breaking even. I was falling behind. My crew would have to work harder to complete the task because I wasn't keeping up. I remember a time when working at a structure fire would be the only event of my day because I was physically spent after the call. I realized that I was putting not only myself but also my family and my fellow firefighters at risk.
The sobering statistics above, along with several personal realizations, led me to make a life altering decision. I needed to make a change. I needed to start taking my health seriously.
"Preparing for the rest of my life"
In June 2020, I started the process of meeting with a bariatric center for weight loss surgery. The process, as I would learn, was more involved than I had realized. I would spend the next three months preparing for the rest of my life. I met with a dietician to discuss my eating habits, and together, we created a plan for success. I met with the surgeon who laid out all the requirements for my surgery to take place. I started a diet almost immediately following my first appointment, and over the next few months, I had regular checkups with my team to ensure that I was sticking to the plan.
At two weeks out from the surgery, I was put on a full liquid diet that consisted of creamed soup, yogurt, pudding, Jell-O and protein shakes. At the time, I was working a full-time night shift in a busy 911 system. Meal prep was a must because, as you can imagine, there aren't many options for a liquid diet from a gas station at 3 a.m.
Finally, in October, the day came that changed my life. I joined the "Loser's Bench."
The surgery was simple enough, at least according to the doctors. Through five small incisions in my abdomen, they would remove around 80% of my stomach, essentially turning my stomach from a ball shape to a banana shape. The surgery not only creates a smaller "pouch" for food to fit in to but also suppresses appetite. The doctors projected that I would lose 75-80% of my excess weight simply from the surgery. The rest would be up to me and the lifestyle changes I enacted.
"The weight began to come off"
Recovery went well. My first two weeks after surgery required a clear liquid diet. This is like the full liquid diet, but it removes any liquid you cannot see through. If you're thinking that this sounds unenjoyable, you're right! I lived off of Jell-O and beef or chicken broth.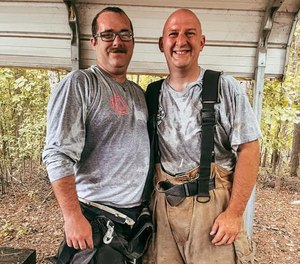 As the days passed, the weight began to come off.
The next two weeks, I was back to the full liquid diet. By the end of my first month post-op, I was allowed to eat soft puréed food. Let me tell you, chicken mush never tasted so good! By this time, I had lost about 25 pounds, and I was beginning to see and feel the changes.
January brought more good news. I was down about 50 pounds, and my clothes were starting to sag off my body! Even more impressively, I was starting to realize the difference that this weight loss was going to make. I wasn't winded as easily. I had more energy. During training, I had more to give. I had cinched up my turnout gear as much as I could, but by this point, I looked like a little kid wearing his dad's suit for dress-up.
As the pounds kept coming off, my mental health began to improve as well. I started to feel better about myself on both the outside and the inside. It was a whole new experience for me, but the best was yet to come.
"Is this how healthy people feel?"
By early summer, I was down almost 100 pounds. It was at this point that two very big events occurred – eye-opening events in my weight-loss journey.
The first was a working fire that just a year ago would have wiped me out and required at least a day of recovery. I found that I was able to make my SCBA breathing air last longer, and that I didn't feel as tired afterward. It was amazing to me that I had more to give when the job was done! Is this how healthy people feel?! Even though I am a paramedic, I had no idea that my extra weight was putting such a strain on my body, and I couldn't believe that I had waited this long to take on this problem head on.
The second event was the physical agility test for the career department to which I had applied. In the past, I talked myself out of these kind of tests by making excuses – all out of fear of failure. I would wait to get the medical release signed until it was too late. I would make sure I was working on the day of the test and that I "wouldn't be able to get off." I was trying to protect my pride by making sure that if I didn't take the test, I wouldn't fail. The day of the test, I was more confident and felt better prepared than I had felt about anything in a long time. It was hard, but I passed! Not only that, but I passed with a significant amount of time left over!  After successfully passing the agility test and the interview process, I was hired to be a full-time firefighter.
"You need to make the choice"
This journey has been hard. I still struggle with emotional eating, and I work every day to try to better myself. I find that there are days when I backslide, but it only takes a quick trip down memory lane through my photos to see how far I have come, and to remember how much I do not want to go back to where I was.
I would like to encourage everyone reading this to take a moment to perform a self-assessment. Ask yourself the following questions:
"If my loved one – my daughter, my son, my spouse, my parent – was trapped in a fire, would I want ME being the one to have to make that rescue?"
Could you, without a doubt, do the job?
Could you give it you all and still have some left over?
If the answer is no, there is only one person who can fix it. You need to make the choice to make yourself better.
There is a quote from Greek philosopher Heraclitus that says the following: "Out of every one hundred men, ten shouldn't even be there, eighty are just targets, nine are the real fighters, and we are lucky to have them, for they make the battle. Ah, but the one, one is a warrior, and he will bring the others back."
Are you one of the 10 that shouldn't be there, the 80 who are just targets, or are you the one? I may not be the one – I don't think that anyone can label themselves as such – but I am now confident that I am one of the nine real fighters. I will continue to strive every day to be the one, and to never go back to being one of the 90 ever again.
So come with me, and together we can achieve our goals. Believe in yourself. BE THE ONE!

Request product info from top Firefighter Fitness, Mental Health and Wellness companies
Thank You!