Best undergarments to protect firefighter from burns
Here's a comprehensive look at what to wear under your bunker gear and why
---
Ask any firefighters about the importance of always wearing the proper flame-resistant outer garments — turnout gear or wildland firefighting shirt and pants — and most get it.
The matter of what they wear under their protective clothing is a horse of a different color as some firefighters have been attracted to undergarments made from polyester and other synthetic fabrics.
The advent of performance underwear made to wick moisture and keep the wearer cooler continues to gain market share, particularly among professional athletes and weekend warriors alike.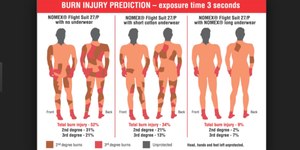 It's no wonder then that firefighters, who are athletes in their own right, would take great interest in undergarments that would help them to be more comfortable while on the job.
Laboratory tests showed that firefighters wearing synthetic undergarments may be more likely to suffer burn injuries because the synthetic materials might melt and stick to their skin. In those tests, undergarments made up of 100 percent cotton or 100 percent wool did not ignite, melt or char during testing.
What to look for
There are roughly five different base components being used by manufacturers to produce fire-resistant undergarments.
Oxidized polyacrylonitrile.
Meta-Aramid (Nomex).
Modacrylic (A manufactured fiber in which the fiber-forming substance is composed of less than 85 percent but at least 35 percent by weight of acrylonitrile units).
Para-Aramid (Kevlar).
Polybenzimidazole (PBI).
Each of these base components is blended with additional strengthening fibers like Spandex or nylon to provide a more comfortable fit and longer garment life.
Manufacturers also use lyocell, a form of rayon that consists of cellulose fiber made from dissolving pulp (bleached wood pulp) using dry jet-wet spinning. Lycocell fiber (sold under trade names like Lenzig and Tencel) helps to provide heat and flame resistance in different fabric blends.
Manufacturers must comply with several standards in order to market their clothing as being fire-resistant. Here are the five applicable standards.
For most vendors of fire-resistant clothing, compliance with ASTM F1506 and NFPA 70E are most prominently featured in their marketing material and on-line catalogs.
Where to buy
While the need for fire-resistant undergarments by firefighters is creating a market for those items, the far larger market for fire-resistant clothing of all types are the industrial and manufacturing sectors. This is particularly true for workers in occupations that involve electrical equipment, arc welding, the potential for flash fires and the like.
Here are some of the more popular vendors targeting those occupations. They are also companies that include firefighters as part of their marketing strategies.
Lastly, let's talk about a good pair of socks because as old adage goes, "If your dogs ain't happy, nothing's going to be happy."
I would guess that wildland firefighters spend more time on their feet that anyone in the fire service. So it seems logical that a search for the best socks for firefighters should focus on what the wildland guys and gals like on their feet.
Darn Tough Vermont offers a Coolmax full cushioned boot sock that's 41 percent polyester, 27 percent nylon, 26 percent acrylic, 5 percent Lycra Spandex and 1 percent other fiber. They also have Merino wool hiker boot full-cushioned socks that are 66 percent Merino wool, 32 percent nylon and 2 percent Lycra Spandex.
REI also has Merino wool hiking socks made with Merino wool, nylon and Lycra Spandex.
On the structural firefighting side, FireStore's exclusive Red Toe X-Static endurance 9-inch firefighter boot sock is made with 82 percent cotton, 10 percent nylon, 5 percent Spandex and 3 percent X-Static. The X-Static silver fiber is made from pure silver and is permanently bonded to the surface of the fiber.
The 5.11 Tactical's year-round, over-the-calf sock was also a frequently mentioned choice of socks for firefighting in the non-wool category. The company's cold-weather sock uses a Merino wool blend for added warmth in colder weather.
Trouble with your socks falling down inside your bunker boots? Have you ever thought about soccer or rugby socks? They don't fall down because they have some elastic in the uppers meant to stay above the soccer shin guards.

Request product info from top Personal Protective Equipment - PPE companies
Thank You!