The Next Generation of SCBA
---
By Jeffrey O. and Grace G. Stull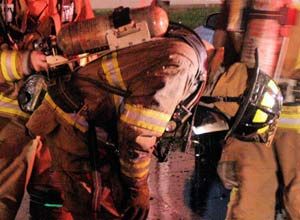 Photo Tod Parker/PhotoTac.com
Current SCBA represent a significant proportion of the weight of the overall protective clothing.
An innovative pressure vessel is set to completely change the profile and weight of current self-contained breathing apparatus. The IAFF has been awarded a contract by the Department of Homeland Security to introduce the vessel, which utilizes carbon, Kevlar and fiberglass wrapped cylinders with operating pressures up to 5000 psi.
Existing cylinders primarily use an aluminum liner in a conventional elongated cylindrical form. Due to their shape and rigidity, current pressure vessel design for SCBA contributes the primary proportion of overall weight and profile to the apparatus. Moreover, current SCBA represent a significant proportion of the weight of the overall protective clothing and equipment ensemble. The additional stress created by emergency responders bearing this burden has been associated with the increased rates of injury and fatalities for emergency responders. 
Molded Hytrel
The IAFF is working with Vulcore Industrial, based in Columbia, Ill., which has invented a new pressure vessel based on inner cores made of molded Hytrel that are then braid wrapped with para-Aramid and core wound with pre-impregnated carbon. A number of these cores are then combined with a manifold and regulator and placed in a harness assembly that can be worn by an individual. In initial prototype designs, the new pressure vessel offers significant advantages in terms of weight, profile and flexibility that include an approximate 50 percent weight reduction over conventional SCBA cylinders with an overall depth of the new technology measuring at 2 ¾ inches compared with 7 inches on average for conventional SCBA cylinders.
In addition, the design of new pressure vessels in the harness assembly allows the overall system to better conform to the wearer's back and flex with movement, permitting increased mobility in confined spaces. And, unlike conventional cylinders, there is no fragmentation hazard upon rupture. Instead, a punctured pressure vessel would simply vent the contained air to the atmosphere with no danger of explosion.
The technology has already been developed to the point where prototype systems have been shown benefits in tests by firefighters. Vulcore Industrial, working with the Fort Wayne Fire Department, has created prototype systems that easily outperform conventional SCBA in obstacle courses and simulated confined space entry. Prototype pressure vessels have also been tested for several performance attributes showing no air loss after two years and meeting burst standards with comprehensive pressure and cycle testing.

Government approvals
The DHS contract to the IAFF spans a 15-month period to advance the new technology toward commercialization. This effort includes getting the necessary government approvals for the new pressure vessel, working with the SCBA industry to integrate the new pressure vessel as part of existing SCBA, fulfilling government and NFPA standards certification requirements, and carrying out field testing to prove the benefits of the new technology. The IAFF Project Team, which also includes International Personnel Protection, Inc., based in Austin, Texas, is working with a Technical Advisory Committee, which is providing input for the integration, testing and introduction of the new pressure vessel technology. At the first meeting of the Technical Advisory Committee, several factors were identified that will help with ensuring a smooth transition of the fire service to lower weight, thinner profile SCBA. For example, since only one system can be initially brought through various required approvals and certifications, the advisory group opted for a 45-minute service life rated system.
Harold Schaitberger, general president of the IAFF, has prioritized this effort to ensure his membership has the latest technology to minimize firefighter and other first responder stress during emergencies. "The IAFF has a long history of promoting new development projects that provide direct benefits to fire fighter health and safety," he said. "We feel that the time is right to fast track the introduction of new technology that will allow firefighters to respond lighter with a higher degree of safety by using less stressful, but highly protective equipment. At the end of this project, the IAFF is confident that a new generation of lighter, thinner SCBA will be available to the fire service."
Within the next two years, the new SCBA technology is likely to change the way that the fire service and other first responders look at SCBA and the missions that require air-supplying systems. Not only will the firefighter ensemble look different, with sleeker, lighter SCBA, the improvements for stress reduction and confined space mobility will be dramatically improved. Most importantly, the new technology will represent a paradigm change in the industry the same way that positive-pressure SCBA afforded firefighters substantially higher levels of safety and health compared to previous respirator use.

Request product info from top Personal Protective Equipment - PPE companies
Thank You!