Saving Firefighter Lives Through Public Education
Editor's note: In this latest installment of his series on the 16 Firefighter Life Safety Initiatives, Billy Hayes looks at #14: 'Provide public education more resources and champion it as a critical fire and life safety program.'
By Billy Hayes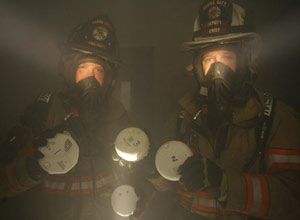 AP Photo/Toby Talbot
Barre, Vt., firefighters display a variety of smoke detectors as part of a campaign last year to raise awareness of the different types available.
I am as passionate about fire safety education as I am firefighter safety. The reality is they accomplish the same thing. The 16 Firefighter Life Safety Initiatives are in no specific order of importance, but I've decided to focus on #14 now after we experienced six fire fatalities on New Year's Day here in Washington, DC. Across the nation, multi-fatality fires are nothing new. There must be a sense of urgency in the fire service on this issue — enough is enough.
I can remember taking my very first fire safety educator course about 17 years ago at the Georgia Public Safety Education Center in Forsyth. I came back to the fire station and tried to tell the senior guys about what I had learned. Before I was able to get 30 seconds into the conversation, I was cut off. "That fire safety education $#%* is going to put us out of a job!"
I couldn't believe what I was hearing. How could anyone in this profession be so closed minded? Unfortunately, those words still ring the halls and on the apparatus floors of many fire stations today. But 17 years later, we are still losing civilians at an epidemic rate as well as the firefighters responding to those very alarms that could have been prevented.
Firefighter safety correlation
So how does fire safety education correlate to firefighter safety and the reduction of line-of-duty deaths? Put yourself in the company officer seat for a moment while I set up this scenario.
You are dispatched to a working fire. You are the first company to arrive on scene. As you exit the apparatus, you are met by a resident of the home, and he/she advises you that everyone has escaped safely because of the smoke alarm, and all have been accounted for at the meeting place. The fire is relatively small in size because of the quick exit and early activation of 911. The first priority of life safety has been secured, and your crew can quickly transition into fire suppression efforts. Does this reduce some of the risks to your crew? I know some of you are saying, "Yeah, but that never happens!"
What if you take that same structural house fire, with cars in the driveway, and no information as to whether anyone is home or if they have escaped. You have a life safety concern, a suppression concern, and the fire could be a little more advanced than you can see because there is no information provided. Does this increase the risks that you and your crew face? Does this scenario make it more dangerous than the previous one? Imagine if I threw a residential sprinkler in the previous scenario. Can you see some of the correlation now?
Larry Schultz, assistant chief of operations for DC Fire and EMS, sent me an interesting e-mail the other day. He pointed out that while he believes in the mission of the Everyone Goes Home program, and what we are trying to accomplish, we aren't providing much substance other than throwing out general statements of what needs to change. I happen to agree with him and I admit that maybe I'm just as guilty in my columns. So what tangible information on how to reduce LODDs by fire safety education can I give you?
I'll begin by asking you how many fire safety educators do you have in your department/organization? If you immediately begin to answer this question by trying to think how many are assigned to prevention, then you have already headed down the wrong path. If you respond by saying everyone in the department, then you have the idea. And when I say everyone, I mean everyone. That includes the fire chief to the new recruit.
While I agree that not every firefighter has the ability to go out and deliver a presentation to large crowds, every firefighter can interact with the public on a smaller scale. If the engine company stops by the grocery store and sees an exit blocked, they shouldn't push it off on the fire marshal. Take care of it right then as there is an educational opportunity. Enforcement should be the last of the 3 Es of Prevention. If you go to a house on a routine medical call, how much longer does it take to ask if you can check their smoke alarm? I could go on and on with scenarios such as these, but the point is there are prevention education opportunities just around the corner of most calls.
So here are some tangibles of what we can do:
Include fire safety education training at all levels — entry and in-service. While "Stop, Drop and Roll" has saved many lives, the training can be more detailed and interesting. A citizen should never get a blank stare or an "I don't know" from a firefighter when they are asked the difference between a photoelectric and an ionization smoke alarm.
Make fire safety educator certifications a requirement for promotions.
Stock fire apparatus with smoke alarms and fire safety literature for on the spot distribution.
Develop projects that are sustainable and make a difference. Don't design programs that fail or "dump" work on the firefighters. This is a root cause of resentment toward education. Educators and chiefs should seek input from the firefighters as they are the ones who see the problems that exist in the community. Include everyone in the decision making.

If we can eliminate some of the responses, can't we reduce some of the risks?

If we go back to Initiative #1 on Culture, which everyone likes to blame for LODDs, we could begin to change this by altering our titles from firefighters to fire prevention officers or something similar. We certainly will be tasked with responding to emergencies as needed, and doing many of the same tasks, but what if our job title were different and reflected what the foundation of the fire service should be — prevention and not reaction. I know, I know, I know. What the heck am I thinking? "Nobody will apply for the job," and "Yeah, don't forget, we'll put ourselves out of a job."
So who has the courage to tell Cathy Hedrick, who lost her firefighter son Kenny in a fire from discarded smoking material, that our job is more important than the courage to change in memory of him? Who has the courage to tell Vina Drennan, who lost her husband John of the FDNY in a preventable fire, that our job is more important than the courage to change in memory of him?
I absolutely support the notion that we must make adjustments tactically to prevent firefighter LODDs, but if we can eliminate some of the responses, can't we reduce some of the risks? I'm not advocating a weaker or softer fire service, I'm advocating a smarter, safer and more effective fire service to ensure that Everyone Goes Home.