Petzl showcases NFPA-compliant personal escape system
The upgraded EXO AP includes an anti-panic function that engages if the user's adrenaline spikes
---
Petzl debuted an NFPA-compliant personal escape system at FDIC 2017.
The upgraded EXO AP is 20 percent smaller than its predecessor and is running at $489.95. The original EXO was developed through close relations with the FDNY to create a device to allow firefighters to escape burning buildings via a personal rappel safety system.
The EXO AP includes an anti-panic function that engages if the user's adrenaline spikes or if the handle is yanked too hard; the descent will stop and give firefighters a moment to collect themselves before re-engaging the handle.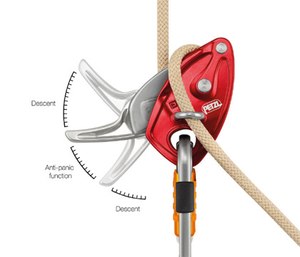 The descender allows users to anchor the rope, move horizontally, climb through a window and control speed or stop a descent. The 50-foot Technora escape rope provides resistance to abrasion and high temperatures; a Nomex carry bag attaches to the system directly to the harness.
The company will also debut a cam-loaded rope grab, fire rescue rope and a new seat harness. 
Visit booth 523 to view the products.