Firefighters save man after crash off cliff, into river
The fire chief said it was one of the most difficult technical rescues he's ever seen and worked on
---
RANGELEY, Maine — Firefighters rescued a man Wednesday after he swerved to miss a deer and landed in a river.
The Franklin Sun Journal reported that crews used ropes and rappelling gear from their aerial truck to reach the driver, 58-year-old Frank Formisano. The vehicle was 50 feet down in a gorge and firefighters need to reach over the guardrail to access it.
"The scene was quite complex due to getting the right resources there and the lack of access to the patient because of where the vehicle ended up," Cpl. Matthew Brann said.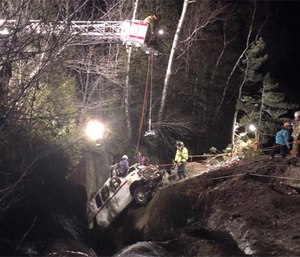 About three hours after the call came in, firefighters were able to extricate Formisano.
"Great job, victim survived, great teamwork to save a life. Great job everyone on one of the most difficult technical rescues I have ever seen and worked," Rangeley Fire Chief Tim Pellerin said.
Two other fire departments and a search rescue team assisted the Rangeley Fire Department in the rescue.
An ambulance crew transported Formisano to the hospital, where he was treated and later released.
Great job Rangeley Fire, Phillips and Farmington Fire, Northstar EMS, Franklin County Sheriffs and 911, Franklin County Technical Rescue team working for over 3 hours to save the life of a crash victim who went over the embankment 50 ft down into the gorge at small falls on Rt 4. One of the most difficult technical rescues I have ever seen and worked. All hands working to save a life, great job everyone!!

Posted by Tim Pellerin on Wednesday, December 16, 2015