European fire departments test drone response
The departments are using the drones for hazmat incidents, multi-vehicle crashes and water and remote-area rescues
---
BRUSSELS — Two European fire departments are testing ways to use unmanned aerial crafts for different emergency scenarios.
The yearlong test is part of a partnership between drone maker DJI and the European Emergency Number Association. EENA is a non-governmental organization that serves as a discussion platform for emergency services, public authorities and researchers to transfer knowledge and best practices.
The partners have selected the Greater Copenhagen Fire Department in Denmark and the Donegal Mountain Rescue Team in Ireland as the first two test sites.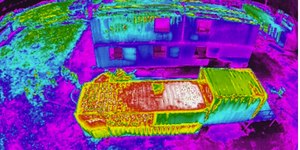 In Denmark, the focus will be on drone applications for firefighting, chemical accidents and larger vehicle crashes in urban and over-water environments.
The team in Ireland is already using advanced software applications through DJI's SDK to coordinate search and rescue missions in remote areas, and the focus will be to improve real-time networking techniques and crowd-sourcing capabilities.
Speaking for EENA Deputy Executive Director Tony O'Brien said his organization expressed his anticipation for the program:
"EENA has a unique position to observe how aerial technology has been — and has the potential to be — implemented to support first-responder services," said EENA Deputy Executive Director Tony O'Brien. "With this program, we seek to better understand how challenges in terms of logistics and data-analysis and integration can be overcome to fully realize the benefits of drones in emergency and humanitarian crisis situations."

Request product info from top Fire Technology companies
Thank You!