Turning a pandemic negative into a technology positive
How a self-proclaimed "tech dinosaur" learned to maintain virtual connections with members, the media, vendors and partners
---
We are now into the seventh month of COVID-19 in the United States and its effects on the communities we serve.
Like most things that alter our daily life, we tend to dwell on the negative, and in this case, there are many we face now – and more we will face in the future. However, with that in mind, I decided to find something that has changed my life for the better – something that I would probably never have done if it were not for the virus and its effects on how we do business each day.
For years now, we in the fire service have used the term dinosaur to describe a chief who just doesn't get the idea of a new or better way to fight fires, deliver pre-hospital care or conduct community risk reduction. Note: These are often the same people who default to the response, "Because this is the way we've always done it."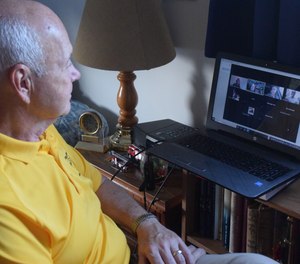 Team meetings
As a self-defined "tech dinosaur," I can confidently say that this pandemic has helped bring me closer to 21st-century technology. During the early days of COVID-19 when most of our administrative staff was advised to work from home, we still had to remain in touch and conduct business through distance meetings. While I had recently updated the operating system on my home computer, I lacked, or at least thought I lacked, the capability of setting up or attending any sizeable virtual meeting from home.
Enter my youngest grandson, who quickly showed me that my new operating system could rapidly download Microsoft Teams, which provided the best security needed to accommodate a sizeable number of virtual attendees. It was also the system used by our administrator to call together all the members of his executive staff, initially for daily COVID-19 meetings until restrictions were lifted, allowing us to have a presence back in our offices.
Media matters
While the number of those virtual meetings has gone down, a similar issue developed with the news media. Most of the local reporters remained working from their home but continued to want interviews and updates from the department, especially on our regular press releases.
I initially used FaceTime on my cell phone to accommodate these requests but quickly saw this was not the best for broadcast quality. A phone call to a friend, also the news director at one of the local TV stations, informed me that Zoom was their vehicle of choice.
I had my wife, Diana, critique my first at-home Zoom interview, and based on her suggestions, we reworked the lighting, angle and backdrop for subsequent interviews from home for a more professional look.
Vendor follow-up
Keeping in touch with other staff members has not been the only advantage to virtual meetings. Fire and EMS equipment vendors, along with several of our organizations, such as UL, the NFPA and the IAFC, have taken to virtual events both for meetings and educational classes.
One fire equipment vendor that participated in a virtual product workshop indicated to me that his company had done more business using follow-up productive meetings with potential clients online than he had done in the last several years at on-site conferences.
His reasoning: The one-on-one personal virtual meeting gave them both more time together to ask and answer questions, discuss the terms for a sale, and developed a timetable for delivery, even when the vendor and client were literally thousands of miles from one another.
Cross-continental training
My final example is from my support of the Africa Fire Mission (AFM), a Cincinnati-based nonprofit, consisting of firefighters and departments from across the United States and Canada that provide surplus fire equipment and travel at their own expense each year to Kenya and Zambia to conduct in-service fire training. Both my son, Todd, and I have traveled with AFM in past years, but this year, because of COVID-19, all of the in-person week-long classes were canceled.
Not to be deterred, AFM began using Zoom for one-hour weekly training sessions to air in both countries. When it's 9 a.m. on the East Coast, it is 4 p.m. in Nairobi, a time when both the daytime and nighttime shifts overlap.
I'll be instructing one of these broadcasts on fireground awareness. It is not only an exciting challenge to prepare for the class, but I'm eager to have a question and answer period where I can try to bring more relevance to the conditions these firefighters face in their countries.
No longer a tech dinosaur
Don't get me wrong, I am still a proponent of face-to-face conversations, conducting business in person with both subordinates and superiors, as well as informal discussions around the kitchen table at the fire stations, and personal contact with those who seek advice or counsel. But I guess I'm hooked with this new technology and the way it allows us now to do business for our department, with the media and within the fire service at large during these unusual times. And while I'll never claim to be a computer geek, I'm now sure that my grandchildren have vowed to keep me from ever again being a tech dinosaur.
Stay safe!

Request product info from top Fire Technology companies
Thank You!