Why thermal imaging cameras have become essential tools
From hazmat to vehicle crashes to wildland fires, FLIR has a thermal imaging camera for practically every job
---
By Robert Avsec for FireRescue1 BrandFocus
It's only been in the past several years that thermal imaging cameras (TIC) have moved up in the firefighting equipment hierarchy from "nice to have" to "must have" status. Two big factors in this greater acceptance of TICs are a lower cost per unit and growing support for TICs as life-safety equipment on the same level as SCBA and PPE.
The lower cost for TICs has meant that more fire departments could take the plunge by purchasing the first TIC for their department, replace older and heavier and bulkier TICs, or add to their existing inventory. Whatever the motivation, more firefighters have been able to have and use TICs on a regular basis.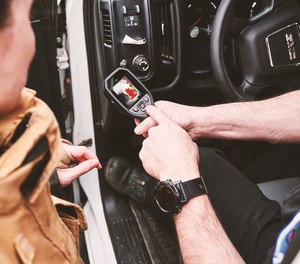 TICs are not just for conducting searches for occupants in structure fires but also for:
Overhaul. Handheld. TICs can be very useful in rapidly identifying hot spots and lingering embers and assisting firefighters in pinpointing the exact location of the fire's origin and the extent of its spread.
Hazmat Responses. A TIC sees the temperature differential between the product and its surroundings making it a valuable assessment tool for determining how much of a liquid has escaped from a container, a spilled product's exact location on the ground and the extent of its spread, and a more precise location of the product if it's floating on water.
Motor Vehicle Crashes. TICs have proven extremely valuable as a tool during crashes day or night or during low-visibility conditions (such as falling snow or fog), enabling firefighters to:

Assess the scene for spilled fuels or other hazardous materials
Speed the search for unaccounted occupants of the vehicle.
Determine the total number of vehicles and their location.

Outdoor Search and Rescue. The TIC's capability to detect heat produced by the human body enables the searcher to more effectively and efficiently find victims when seconds count.
Wildland Fires. TICs have proven useful in sizing up a fire, from both the ground and aloft. Firefighters using TICs are also better protected from rapidly moving infernos because the TIC can more rapidly and accurately identify hot spots and the progress of the fire, helping them to avoid being killed or injured while operating around wildland firefighting apparatus (e.g., dozers or tenders) because of smoky conditions.
FLIR, a leader in thermal imaging technology for the fire service for many years, continues to develop TICs that enable firefighters to complete their task – whatever that task is today – more safely, effectively, and efficiently. Whether you're a firefighter or a fire officer, FLIR has the TIC that fits your needs.
For the Decision Maker
A couple of FLIR's family of thermal imaging cameras that were designed with the needs of fire officers in mind are the K33 and K53. FLIR simplified operations so that both the K33 and the K53 come with single-button operations (good when wearing firefighter gloves) and one viewing option. The two cameras provide clear thermal imagery on a bright 4-inch display with the K33, offering 240 x 180 pixel resolution and the K53 "bumping it up" with 320 x 240 pixel resolution. All of this is included in a package that weighs 2 ½-lbs. (1.1 kg) and can operate off a lithium-ion battery for about four hours when operating at 77°F (25°C). 
While the K33 cannot store images or video, the K53 can internally store 200 image files that can consist of pictures and/or five-minute video clips for after-action review and incident reporting.
A TIC for Every Firefighter
Introduced in April 2019 at the Fire Department Instructors Conference in Indianapolis, the FLIR K1 is a rugged, compact handheld TIC that enables the user to safely, effectively, and efficiently complete search and rescue operations in a structure fire or any of the other tactical uses discussed earlier.
Though the FLIR K1 is a small package (camera and battery together weigh less than one pound) measuring 11 x 6 x 4 inches (283 x 148 x 103 mm), the K1 features a 2.4-inch HD display with 320 x 240 pixel resolution (that is aided by MSX technology that adds a visual aspect blended image to the thermal base) and comes with three color palettes: T1 Basic (white-hot with isotherm), White-hot, and Iron.
The K1 can simultaneously capture thermal and visible images of a scene and stores up to 10,000 image sets that enable end users to create post-scene reports, analysis, and evidence for criminal prosecutions such as arson cases.
The K1's pistol grip design enables firefighters to view the scene from their line of sight for improved safety and situational awareness. The spot thermometer easily identifies unseen hot and cold spots for timely troubleshooting.
Is it rugged? The K1 is up to any tactical challenge because of its IP67 rating for water and dust resistance and its ability to sustain a 2-meter (6 ½-foot) drop onto concrete. The K1's integrated, rechargeable lithium-ion battery can last up to five hours on a single charge, and the K1 also has a built-in 300-lumen flashlight that gives a firefighter the ability to put light on their work without having to carry a separate flashlight.

Request information from Witmer Public Safety Group, Inc.
Thank You!