LDH: How to get big water to big fire
Knowing how to use and care for large-diameter hose is critical for effective fireground operations
---
One of the fundamental tactical functions of an engine company at any fire is to establish an adequate water supply. "Big fires need big water," as the late Chief Alan Brunacini once said.
Before the introduction of large-diameter hose (LDH), that engine company function was often a labor-intensive task (lots of firefighters) and equally equipment intensive (lots of hose and relay pumping to overcome the friction loss associated with long hose lays).
Fire hose is generally considered to be LDH when its interior diameter exceeds 3½ inches. Fire and departments in the United States typically use LDH with diameters of 4, 5 or 6 inches.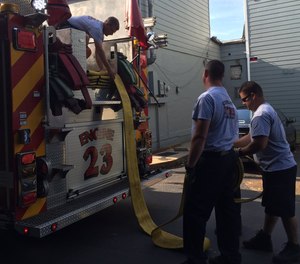 LDH is big-flow, low-pressure hose, which is both its defining feature and the reason for its popularity. Because friction loss in fire hose is entirely dependent upon flow, not pressure, the more capacity (gpm) a hose can carry, the less force (psi) is needed for the delivery.
This accounts for the ability of LDH to deliver greater water volume, over greater distances, with less friction loss than its smaller cousins. With this new capability on their engines, firefighters are able to deliver big water to the fire scene with less labor and less equipment.
Know the fundamentals
The proper care and maintenance of this water supply giant, as with all firefighting tools and apparatus, begins with learning the fundamental knowledge and skills during training and using them consistently on the fire scene. Here are some basic points for fire hose, specifically LDH:
LDH is generally longer than smaller diameter hose. Standard length is 100 feet.
LDH is rugged, but not indestructible. External jacket is usually made of polyester fiber. Internal liner is made of seamless coated rubber.
LDH is heavier than smaller diameter hose. With couplings, the weight of 100 feet of 4-inch hose is approximately 78 pounds; similar length of 6-inch is approximately 135 pounds.
LDH plus water is very heavy. It is an accepted fire service understanding that 5-inch LDH will hold 1 gallon of water per foot of hose. On average, a 100-foot section of 5-inch hose empty weighs 110 pounds. With water weighing 8.33 pounds per gallon, a 100-foot section of LDH filled with water will weigh approximately 944 pounds.
LDH best practices
Next, let's take a look at some generally accepted best practices associated with using LDH operationally.
Be sure to lay the fire hose on the same side of the street as the water supply. This enables other responding resources to access the emergency scene. If necessary, cross the road at the fire scene, laying the hose at an angle.
Never drive a vehicle on dry hose. Passenger cars and small trucks that try to cross a charged LDH, will push them down the street.
Fire apparatus can cross a charged 4-inch line. Cross at an angle, one tire at a time and never with chains or studs on the tires. Don't even think about taking fire apparatus over a charged 5-inch or 6-inch section of LDH. It happened in my former department and the hose completely removed the engine oil pan from the apparatus.
Lay LDH at a driving speed of 10 to 15 mph to prevent the couplings from hitting the tailboard of the engine.
Relay applications
When relaying water from a pumper near the water source to another pumper, the inlet or suction side of the pump receiving the relay should be equipped with a relief valve to reduce and control any water hammer effects. A discharge relief valve or automatic pressure governor does not protect the suction side of the pump. The relay relief valve should also be capable of controlling the build-up of air pressure.
Correct operational procedures should be established and practiced before attempting relay-supply operations as personal injuries, pump damage and hose coupling damage could result from improper operations. The surge of pressure experienced when a high-velocity water flow is abruptly shut off can cause momentary pressures and stresses up to seven times the static pressure.
Therefore, it is of the utmost importance when using LDH to open and close valves slowly — using the 5-second rule — to minimize this effect.
Key maintenance issues
Avoid dragging LDH along the edge or fold, as this action concentrates abrasion of the outer jacket in the folded area. Also, avoid dragging fire hose that is kinked back upon itself, as this greatly concentrates abrasion to the area where the kink contacts the ground. By dragging the hose along the flat surface, the abrasion is distributed over a larger surface area, thereby minimizing wear.
Likewise, avoid dragging fire hose that has not been completely drained of water, either along the edge or while kinked back upon itself. The added water weight will further contribute to premature hose wear.
After each use, clean all hose per NFPA 1962 Standard for the Inspection, Care, and Use of Fire Hose, Couplings, and Nozzles and the Service Testing of Fire Hose, Chapter 4.7 Cleaning and Drying. It is recommended to dry brush the hose using a soft to medium bristle brush. However, wash the hose if the dirt cannot be thoroughly brushed away.
If the hose has been exposed to hazardous materials, use approved methods to decontaminated it. The standard allows for hose covered with nitrile or rubber to be wiped dry.
LDH can be reloaded while the outer jacket is still wet, according to manufacturer recommendations, but mold can still grow. Since most departments do not routinely have sufficient spare sections of LDH to reload while wet hose dries, a good practice is to periodically repack the hose load to inhibit mold development.
The lug portion, the locks and the raceway of the coupling of Storz Couplings should be lubricated using dry silicone lubricant at least twice a year depending on usage. Dry silicone lubricant will not be affected by heat or cold, nor attract dirt or sand; do not lubricate the gasket or seals.
This article, originally published in 2012, has been updated.