LA firefighters test motorcycle response unit
The pilot team of motorcyclists will be assigned to a highway demolition
---
LOS ANGELES — The Los Angeles Fire Department plans to showcase its pilot motorcycle response team.
The five-person unit will be able to speed where cars can't to help injured victims, give initial information to dispatchers, control traffic and scout for fires, according to the Los Angeles Times.
The team's first deployment was during Los Angeles' famed "Carmageddon," closure of the 405. Their next deployment will be the last weekend of September, while workers demolish the other half of the Mulholland Drive Bridge.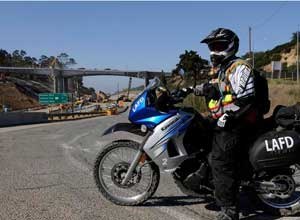 Around the country, cities with high traffic congestion have created similar motorcycle responders to help cut response times. L.A.'s response times are slower than national standards, which the LAFD attributes to budget cuts.
The $6,300 off-road-capable motorcycles on loan from Kawasaki Motor Corp. are equipped with a defibrillator, a small fire extinguisher, medical supplies and a GPS system.
Fire Capt. Craig White told the Los Angeles Times that a dozen firefighters have gone through the training and the department may employ may be up to 10 motorcycles with 28 riders.
Capt. White says the motorcycle team has already showed its versatility when it responded to the 70-acre fire that stopped traffic and prompted the evacuation of the Getty Center. The team got to the scene in three minutes, before helicopters. They were able to navigate heavy traffic and were the first to respond and map the blaze.
The motorcycle crews are also able to cut down on medical calls, a Miami fire chief says. They can sometimes respond in less than three minutes, as opposed to the average seven minutes of an ambulance — long after the four-minute window of brain damage induced by a heart attack.
Although they are cheaper to maintain than standard response units, motorcycle teams don't always survive.
Miami-Dade Fire Rescue Capt. Roman Bas said, "putting firefighters on motorcycles is just not a tradition… they need to look into new ways of using these units."
LAFD officials said state and federal grants may help make the pilot motorcycle team a permanent fixture in the feature.

Request product info from top Fire Vehicles companies
Thank You!