OneSuit on display at FDIC
Affordable hazmat suit meets NFPA 1991 standard
---
By Scott M. Bruner
FireRescue1 Product Editor
One interesting product on hand at this year's FDIC in Indianapolis was the exhibition and demonstration of Saint-Gobain Performance Plastic's OneSuit Pro, a single-skin hazmat suit designed to offer the highest levels of protection against liquid and gaseous agents at an affordable price point.
The OneSuit Pro ($1,150) is the newest member in the OneSuit family, which includes the OneSuit Flash ($2,890) and OneSuit Gard ($1,785). The OneSuit Pro is designed to offer similar levels of protection but at the lower price.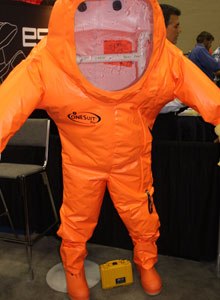 "The Pro is a big deal for us. The material is innovative and patent pending. This is a brand new technology," Peter Kirk, product manager for Saint-Gobain, said. "We were able to take the price down and maintain the chemical protection performance."
One of the most significant features of the OneSuit Pro is that not only does the suit meet NFPA 1991 standards, it is also flame resistant. The suit is made from their patent-pending CoreTech Barrier Membrane technology, offering the highest levels of protection against chemical and biological agents while weighing in at only 10 pounds.
"It's best suited for the unknown…The big deal is it can meet NFPA 1991 certification at a price that is usually found on lower level NFPA 1994 Class 2 suits," said Kirk. "We think flame resistance should not be an option and should be mandatory. Firefighters should demand it."
It's been designed to provide a high level of protection, including abrasion resistance, without sacrificing mobility. According to Saint-Gobain, the OneSuit has a minimum seven-year shelf life. Saint-Gobain has made the suit compact so that it can be stored easily. It also includes a OneGlove Hazmat.
Saint-Gobain is also now aggressively marketing their product globally, recently meeting European certifications in 30 countries for the OneSuit Pro, by passing tests to ensure it can guard against liquid and gaseous chemicals. They are also planning on opening an overseas support and service center.
Saint-Gobain is one of the top 100 industrial companies in the world and a leading producer of construction products, flat glass, high-performance materials and packaging. For more information, visit www.onesuittec.com or e-mail protectivesystems@saint-gobain.com.