3 retired FDNY firefighters die within 48 hour period
Retired FDNY Lt. Timothy O'Neill died April 5, and Firefighter Kevin Lennon on April 4, both from 9/11-related cancers, and retired Fire Marshal Michael Andreachi died within the same period
---
Thomas Tracy
New York Daily News
Three retired FDNY firefighters suffering from 9/11 illnesses died within 48 hours this week as the number of those succumbing to lethal toxins at Ground Zero continues to swell, officials and 9/11 survivor advocates said Saturday.
Retired FDNY Lt. Timothy O'Neill died April 5, and Firefighter Kevin Lennon on April 4, both from 9/11-related cancers — nearly 18 years after responding to the terror attacks.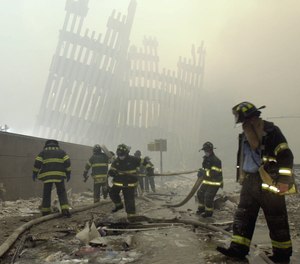 A third retired FDNY member, Fire Marshal Michael Andreachi, also died within the same time period, officials said.
Andreachi, 78, had retired from the FDNY before 9/11, but joined the bucket brigades at Ground Zero. While he had a 9/11-related illness and was enrolled win the World Trade Center monitoring program, his death hadn't been officially linked to his illness by Saturday, officials said.
"The incredible bravery and selfless service displayed at the World Trade Center continues to take the lives of far too many of our members," FDNY Fire Commissioner Daniel Nigro said Saturday. "This is a painful reality for our Department."
Scores of firefighters are expected to attend Lennon's funeral Tuesday on Long Island at St. Francis of Assisi Church in Greenlawn. O'Neill's funeral is scheduled Friday at Sacred Heart Church in Staten Island.
Lennon, 54, spent most of his career at Ladder Company 175, which served Cypress Hills, Brooklyn, members of the Uniformed Firefighters Association said.
"It's another sad loss accredited to Sept. 11," UFA President Gerard Fitzgerald told the Daily News. "We constantly have members in hospice or in the hospice an dealing with serious cancers."
As he grieves for Lennon, Fitzgerald also marked the passing of O'Neill, whom he often played against in firehouse softball games.
"He was an umpire for a few years," Fitzgerald fondly remembered. "He was a good guy, a proud firefighter with a real competitive spirit. We enjoyed our battles on the field."
Attempts to reach the firefighters respective families were unsuccessful Saturday.
Their deaths come as 101 survivors who either responded to, or lived and worked near Ground Zero following the terror attacks have passed away from a 9/11 illness since September, survivor advocate John Feal said.
That's a rate of about 12 a month — or three a week.
Feal said at the current rate, the number of 9/11 illness deaths by September 2019 will either match or exceed 163 — the total accumulated between Sept. 1, 2017, and last Sept. 1, which is considered the highest World Trade Center yearly death toll since the terror attacks.
"This isn't the first time we've seen a cluster of people passing," Feal said. "We can go two weeks without one and then get four in three days. But they always average out to about one every 2.7 days."
Feal said that reporting these deaths "is like shooting myself in the foot."
"It's painful for me, especially since I helped some of these people personally," he said. "It doesn't get any easier, but it's our responsibility to tell the story of 9/11, which hasn't ended."
Feal and other 9/11 health care advocates have turned 2019 into the year of the WTC survivor. Since January, he and a team of 9/11 survivors have repeatedly descended on Washington, D.C. to encourage legislators to sign onto a bipartisan bill that would fully fund and extend the $7.3 federal Victims Compensation Fund. The fund provides monetary payouts to those stricken with a 9/11 illness to help offset living and medical expenses.
The fund is slated to expire in 2020, but so many victims have been requesting compensation, the fund is now expected to run out money even before the deadline.
In February, the fund compensated for the expected shortfall by amending its award payouts so those currently applying could receive less than those who applied a year ago for the same illness.
It's estimated that 90,000 first responders showed up at the WTC in the aftermath of the attack. An additional 400,000 survivors lived and worked in the area at the time.
More than 180 FDNY employees have died of illnesses from the toxic dust at Ground Zero since the terror attack, when 343 members of the department were killed.
———
©2019 New York Daily News
McClatchy-Tribune News Service