Bangladesh depot fire kills 49, including 9 firefighters
More than 300 people were injured, and two firefighters are missing
---
By Leila Merrill
SITAKUNDA, Bangladesh — At least 49 people, including nine firefighters, were killed in a fire at a container depot in southeastern Bangladesh over the weekend. More than 300 other people were injured, CNN reported.
The fire began Saturday night at the BM Container Depot in Sitakunda and continued burning Sunday.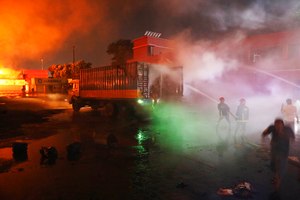 Two firefighters are still missing.
The cause is undetermined, but fire service officials said the blaze may have originated from a vessel of hydrogen peroxide.