Belgian firefighter dies after FDNY fire boat crash, officials say
FDNY's Marine 1 Bravo was operating at night when a charter boat collided with it, injuring the foreign firefighter, an FDNY member and three civilians
---
By Rocco Parascandola and Thomas Tracy
New York Daily News
NEW YORK — A Belgian firefighter taking a ride on an FDNY fire boat was killed when another boat slammed into the ship, FDNY officials said Saturday.
FDNY's Marine 1 Bravo was operating in the East River near Pier 11 at about 10 p.m. Friday when a charter boat collided with the fire boat.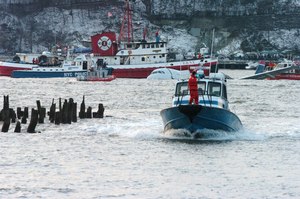 The firefighter from Belgium was critically injured in the crash and died of his injuries at Bellevue Hospital, officials said.
Three other civilians and an FDNY firefighter on the boat were also rushed to Bellevue Hospital with minor injuries, the department said.
A New York Police Department Harbor Unit responded to the crash scene and informed the Coast Guard, a police source said. Cops on the NYPD Harbor Boat also helped transport some of the injured onto the nearest dock.
No injuries were reported on the other boat, identified by the Coast Guard as Honcho.
The U.S. Coast Guard is investigating the crash, a spokesman confirmed.
The Honcho is a fishing boat that docks at Brooklyn Bridge Park and provides private NYC waterway tours for between $450 and $550, according to the company's website. Attempts to reach the boat owners were unsuccessful Saturday.
The name of the Belgian firefighter was not immediately released as family members overseas are alerted.
The Belgian firefighter had met FDNY officials a few years ago and maintained a friendly relationship with department personnel before Friday's crash, a source with knowledge of the incident said.
It was not immediately clear why the Belgian firefighter was on the boat and who authorized the Friday night tour. Non-FDNY personnel are usually not allowed to ride on the marine boats without the permission of a department head, a second source said.
"It's not like the pilot of the boat can say, 'Come on let's go for a ride!'" the FDNY source said.
There have been some incidents in the past when FDNY executives have allowed civilians to take tours on FDNY boats without discussing it with the ship's captain first, sparking tensions, the source said.
"A Marine pilot is just a firefighter with a pilot's license, but they know their boats and they know how many can be on board, what kind of safety equipment is needed, and everything else that makes the boat run safely," the source said. "But in the end they're just firefighters, so when a superior officer tells them what to do, they have to do it."
___
©2022 New York Daily News. 
McClatchy-Tribune News Service