No criminal charges will be filed in death of Peyton Morse
A grand jury found that there is not enough evidence to warrant charges against anyone at the New York State Fire Academy
---
By Leila Merrill
FireRescue1 Staff
SCHUYLER COUNTY, N.Y. — A grand jury declined to file criminal charges in the death of Watertown Firefighter Peyton Morse, citing a lack of evidence WWNY reported Monday.
Morse, 21, suffered a medical emergency during a training exercise at the New York State Fire Academy on March 3, 2021. He died in a Pennsylvania hospital nine days later.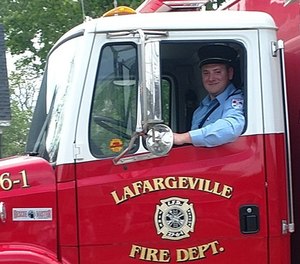 The grand jury heard testimony from Watertown Fire Chief Matthew R. Timerman and Morse's father, Dave Morse, in August.
"Over the last three months, evidence was presented to the grand jury, which concluded its deliberations late last week. The grand jury ultimately determined there was insufficient evidence to warrant charges being brought against anyone at the fire academy for causing Morse's death. The criminal case is now officially closed," Schuyler County District Attorney Joe Fazzary said in a news release.
A report by Public Employee Safety and Health investigators found no violations of health or safety standards, which drew criticisms from the chief and Morse's parents.
Other trainees testified that they saw instructors yelling at Morse as he lay on the floor not breathing.
---

Read more:
Respond to 'I can't breathe' like it's a mayday – because it is
The death of firefighter trainee Peyton Morse is a tragic reminder that we need to change our culture, mindset and response to complaints of respiratory distress
---