Firefighters carry elderly women to safety from floodwaters
Firefighters said the two women, 87 and 89, did not realize how deep the water was on a flooded roadway
---
By FireRescue1 Staff
SPRINGFIELD, Mass. — Firefighters saved two elderly women from knee-deep floodwaters after their car stalled in a deep puddle.
MassLive reported that the women, 87 and 89, did not realize how deep the water was on a flooded roadway when they attempted to leave a cemetery they were visiting, according to Dennis Leger, assistant to the fire commissioner.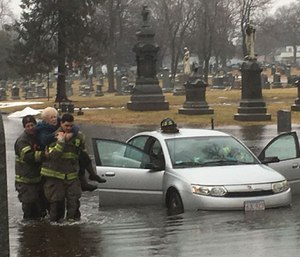 Leger said the vehicle stalled in an icy area of the road, and the women were forced to call for help.
The responding firefighters carried the two women to safety through knee-deep water. No one was injured in the incident.