FFs say live ammunition, 7 motorcycles slowed response to NY house fire
The blaze burned for about half an hour as contents in the garage created a hazard for firefighters
---
Chris Libonati
Syracuse Media Group, N.Y.
FAYETTEVILLE, N.Y. — A Christmas Eve house fire badly damaged a house in Fayetteville Tuesday.
A house at 138 Brookside Lane caught fire in the garage, near a car, according to scanner reports around 5:45 p.m. A neighbor a block away said an explosion shook their home.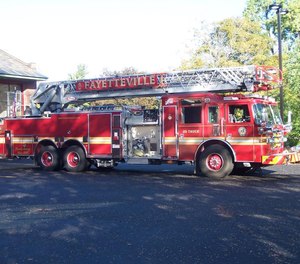 Firefighters found a downed power line in the street, according to Fayetteville Deputy Chief Jeb Benzing. Portions of the house began to collapse as firefighters arrived, Benzing said.
The fire burned for at least an hour and a half.
"We had access issues," Benzing said.
Firefighters found live ammunition in the house's basement and believe seven motorcycles were being stored in the garage of the house, according to Benzing. The ammunition and motorcycles created hazards that slowed their ability to fight the fire, he said.
Firefighters appeared to focus on the garage, where flames were still burning shortly after 7 p.m., though Benzing said it's unclear if that's where the fire started.
It appears that no one was in the house at the time of the fire, according to Benzing.
The home is owned by a Dr. Timothy E. Page, of the same address, according to real estate records.
Firefighters from Chittenango, DeWitt, East Syracuse, Manlius, Cazenovia and Fayetteville responded.
———
©2019 Syracuse Media Group, N.Y.
McClatchy-Tribune News Service