Fire official disputes Ind. city's claims of cost savings in controversial firefighter shift changes
East Chicago's mayor and fire chief said similar changes were successful in Washington D.C., but a D.C. fire official said this claim was inaccurate
---
Lauren Cross
The Times, Munster, Ind.
EAST CHICAGO, Ind. — The firefighter and EMT union president in Washington D.C. is disputing recent claims by the East Chicago city administration as it justified controversial new shifts for city firefighters.
Mayor Anthony Copeland and Fire Chief Anthony Serna recently told The Times the firefighters shifts were being changed to save taxpayer dollars, a move they claimed was successful in Washington, D.C.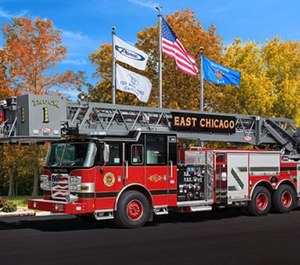 But Dabney Scott Hudson, president of the District of Columbia FireFighters Association, told The Times on Saturday those claims were incorrect.
"Our case went to arbitration, and we prevailed in the arbitration case, keeping our 24-hour shift. In the arbitration, the city testified that the change would in fact increase costs to the city. Additionally, the health and safety, as well as cognitive function of the workers significantly, decrease working rotating shifts such as the ones they are proposing," Hudson said in a statement.
Hudson denounced the sudden decision by East Chicago's mayor and fire chief to move East Chicago firefighters from a 24-hour shift to an eight-hour, rotating shift.
The move will be "detrimental to the health and safety of the employees and the residents they are sworn to protect," Hudson said.
In an interview with The Times, Serna on Friday referenced D.C. as an example of where the shift changes reportedly worked and saved the administration millions, but Hudson said the shift changes never happened.
The Times also received other emails from other D.C. firefighters disputing Serna's claims.
Gary Firefighters Local 359 members wrote a letter saying they were "greatly disappointed to learn of the decision to place East Chicago Firefighters on eight-hour shift rotations as well as down an engine each shift with little to not notice."
Likewise, Hammond Firefighters Local 556 issued a statement calling the decision a result of "senseless grudges," saying "the poor leaders chose revenge over safety."
The statement addressed Serna, saying "We have news for you, Hammond firefighters will no longer cover your poor staffing and decision-making. Our administration and firefighters will no longer be used to cover your stations. We will no longer listen to your cries of being short-handed if you feel safe enough to close down fire engines over politics."
The shift changes, which went into effect Saturday morning, have the local union and its membership outraged. But Serna and the Copeland administration argue the move is all about cost savings.
Union members and a city council member opposed to the change say the shifts are unworkable and retaliation for the union seeking to negotiate with the East Chicago City Council and for having endorsed Copeland's opponent in the May primary election.
Dave Mata, union president for East Chicago Professional Firefighters Local 365, said the union is considering a lawsuit disputing the city administration's actions.
Union supporters and members took to social media over the weekend, calling for a large showing at Monday night's East Chicago City Council meeting.
Councilman Emiliano Perez said he plans to introduce an ordinance that reinforces and clarifies an already existing ordinance outlining the firefighters' current 24-hour rotation schedule.
The meeting is scheduled for 6 p.m. at City Hall, 4525 Indianapolis Blvd., Room 203.
Under the shift change, East Chicago firefighters are expected to work an eight-hour morning, afternoon and overnight shift — rotated over three days — before receiving 24 hours off, according to a memo and shift schedule issued Dec. 4 by Fire Chief Serna.
The memo itself provided no explanation for the change.
"There was no notice. Instead, they do this right before the holidays. It's one thing to go into this in January and allow firefighters to get their family affairs in order," Mata said. "They threw this at us (Wednesday), and now we have a lot of our guys scrambling for daycare. It's turmoil that's unnecessary."
Currently, firefighters work 24 hours on, 48 hours off, like most fire departments across the country, Mata said.
Under the change, a firefighter, for example, will work 7:30 a.m. until 3:30 p.m. on a Monday; 3:30 p.m. to 11:30 p.m. Tuesday; and then 11:30 p.m. to 7:30 a.m. on Wednesday. The fourth day gives them 24 hours off before the shift rotation starts all over again, city records show.
"They're not even giving us straight days or straight nights," Mata said. "This requires us to constantly be working different shifts. That's going to result in sleep deprivation, and we can never adjust. It's unsafe for these firefighters. This is unheard of."
Serna said the eight-hour, rotating shifts were necessary because Indiana code requires firefighters to take 24 hours off before subsequent shifts.
Copeland denied the move was retaliatory.
"It's not about retaliation. It's about efficiency. Tradition can never trump efficiency," Copeland said in a statement.
Serna suggested the change will save thousands in overtime costs with increased minimum staffing standards per shift and the hiring of more firefighters. However, when asked for annual cost savings projections, Serna said he hasn't done the math yet.
Staff writer Anna Ortiz contributed to this report.
———
©2019 The Times (Munster, Ind.)
McClatchy-Tribune News Service