Firefighters mourn loss of Frank Brannigan, safety pioneer
---
Tireless advocate for fire-safe building construction dies at 87 
By MATT KAPKO
News Editor, FireRescue1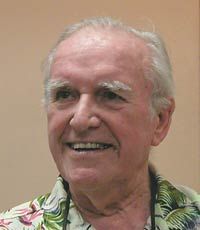 Frank Brannigan
Francis L. (Frank) Brannigan, author of numerous books related to building construction and the fire service and considered one of the fire industry's most influential figures, died Tuesday morning at his Calverton, Md., home. He was 87.
Brannigan, who wrote the Building Construction column for FireRescue magazine, may be best known for his book, "Building Construction for the Fire Service, Third Edition." He strongly believed that firefighters should be armed with as much knowledge as possible about buildings and their weaknesses in order to navigate potential hazards and stay safe.
"Frank is truly a legend who spent his days on earth making positive changes for the fire service," said Michelle Garrido, editor of FireRescue magazine and Wildland Firefighter. "His brilliant ideas — and his willingness to share them — saved countless people's lives. His stories and anecdotes further illustrated his safety message, and generations of firefighters will continue to learn from him because he wrote his knowledge down on paper."
Francis L. Brannigan was born and educated in New York City. He described himself as a "red hot fire buff from childhood," recalling frequent childhood visits to Boston on the weekends to ride with Rescue Company 3.
He enlisted in the U.S. Navy in January of 1942, serving as a 3rd class petty officer in the finance department. While stationed in Panama, Brannigan worked in the fire service, first as a fire protection officer in the 15th Naval District and later as the chief of the Fifth District Panama Security Command. He also served as the officer in charge of the Structural Firefighting School, the Shipboard Firefighting School and the Mobile Seagoing Firefighting Unit. Brannigan eventually became the fire marshal of the Naval Operating Base in Balbo, Panama.
"Aware of my limited experience, I started preplanning buildings," Brannigan wrote in a piece for FireRescue magazine. He said he butted heads with a Navy captain who was "livid" when Brannigan "badmouthed his building to a bunch of enlisted men." Brannigan didn't shy away from the confrontation, however. He said it was his duty to see to it that his men were not killed in the captain's fire-hazardous building.
Brannigan was swiftly transferred to Shipboard Firefighting School in Norfolk, Va., where he was re-acquainted with a "girl from home" named Maurine. Soon after, the two married and started a family.
By 1945, Brannigan was assistant fire marshal of the Fifth Naval District where he was command officer on major structural fires with a 200-person civilian fire department responsible for protecting 26 commands including all ship fires at piers or anchor.
Brannigan developed a fire loss management concept that he thought was much superior to "fire prevention" and was eventually recruited to remain with the Navy as a civilian in the same job. He continued to develop his concept of pre-fire planning which he'd started in Panama.
Brannigan discovered problems with combustible metal deck roofs and determined a tactical solution. He discovered the role fluorescent fixtures play in fires involving combustible fiber board. He wrote his first article in the fire service press on preplanning in Fire Engineering in 1948.
He developed a program to train firefighters to become competent radiological fallout monitors and in 1949 was recruited by the Atomic Energy Commission to develop programs to explain radiation hazards to lay people and firefighters. He also taught fire loss management to managers, engineers and scientists at AEC's plant.
In 1960 Chief David Gratz, who later became president of the International Association of Fire Chiefs, asked Brannigan to teach building construction at a new two-year fire science college program. He concentrated on the subject from then on.
"I refused to accept the then current thinking, that loss of life was inevitable," he wrote.

The New York Fire Department suffered 20 line-of-duty-deaths in its first decade of existence and suffered 89 line-of-duty-deaths in the '60s, he said. "I felt strongly that if firefighters knew more about the buildings and their weaknesses they would be safer," he wrote.
"My mantra has always been, 'The building is your enemy. Know your enemy.'"
Brannigan was a fellow of the Society of Fire Protection Engineers and was named one of the 20 most influential people in the fire service by Fire Chief Magazine. For 37 years, Brannigan defined building hazards for firefighters. His book, "Building Construction for the Fire Service, Third Edition," is available from the NEPA.
"I'll miss his contributions, and I'll miss his warm humor. Frank ended every phone call with a joke. Maybe that's his most important lesson: Have a good time, no matter what you're doing," Garrido said.
Brannigan is survived by his wife, three sons and three daughters.