FSRI releases investigative report from Ga. fire where 4 firefighters were injured
The report details recommendations to enhance the effectiveness and safety of fire service personnel responding to residential structure fires
---
By FireRescue1 staff
COLUMBIA, Md. — UL's Fire Safety Research Institute (FSRI) released a report this week detailing an incident where four career firefighters suffered burn injuries while fighting a residential structure fire. This report details the incident, what occurred, why it occurred, and what can be done differently in the future to result in a more favorable outcome.
FSRI's analysis of the LaGrange, Georgia, incident used computer fire models and test data to examine key fire phenomena and tactical outcomes.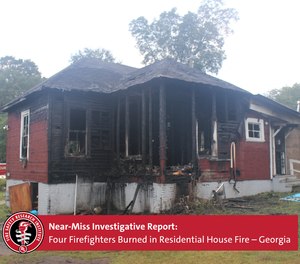 Similar to other near-miss scenarios, the root cause of the incident cannot be attributed to a single factor. Through FSRI's study of this fire conducted with the involved department, six factors were identified that contributed to the outcome involving four burn injuries. These factors were identified as avoidable and led to key recommendations, including topics around size-up, backup hoselines, and using known vs. unknown information to guide fireground decisions.
"After this event, we wanted to do everything in our power to ensure that we learned from what had happened," said John Brant, fire chief, LaGrange Fire Department. "We wanted an outside agency to look into every aspect of the events that lead to our firefighters getting injured. We needed to share this information with anyone and everyone that would listen so that this type of event would not happen to anyone else. We know that we work in a very dangerous profession and sadly people do get injured, but we hope this report will prevent that from happening."
Chief Brant continued: "FSRI was truly amazing throughout the whole process. They were thorough but also compassionate. They did exactly what we needed and found the contributing factors. We have adjusted our protocols and procedures based on their findings. I feel we are a much safer department after their recommendations."
This project was supported through a grant from the FEMA Assistance to Firefighters Grant Program.
Download the report here. There will be future updates on the upcoming online training course based on the report.