How leading organizations put firefighter health and safety first
The Florida Firefighters Safety and Health Collaborative and the Denver Fire Department are co-recipients of the 2019 Sen. Paul S. Sarbanes Fire Service Safety Leadership Award
---
The Florida Firefighters Safety and Health Collaborative and the Denver Fire Department have been selected as co-recipients of the Senator Paul S. Sarbanes Fire Service Safety Leadership Award, which recognizes organizations for their profound contributions to the overall health and safety of firefighters. They will be presented the award on April 25, 2019, in Washington, D.C., at the 31st Annual National Fire and Emergency Services Dinner.
Created in 2009, the award is named in honor of former Senator Paul S. Sarbanes, a former Chair of the Congressional Fire Services Caucus who wrote the legislation that established the National Fallen Firefighters Foundation in 1992. He retired from the U.S. Senate in 2006 following a distinguished 36-year career in Congress.
The National Fallen Firefighters Foundation and the Congressional Fire Services Institute co-sponsor the award, and previous recipients include the likes of the International Association of Fire Chiefs, the National Volunteer Fire Council, the International Association of Fire Fighters and more.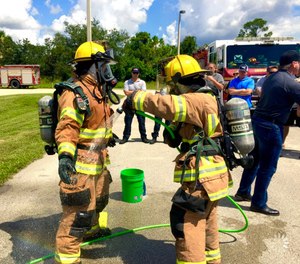 The Florida Firefighters Safety and Health Collaborative, a nonprofit organization founded in 2016, is being recognized for its dedication to firefighter health and safety by "providing education, training and sharing of best practices to minimize risks and exposure to Florida firefighters"—all for free. Additionally, the Denver Fire Department is being acknowledged for its development of a comprehensive health and safety program.
Christopher Bator, president and co-founder of FFSHC, and Samuel Eaton, director of FFSHC and founding co-chair of the Firefighters Attacking the Cancer Epidemic team, as well as Denver Fire Department Capt. Greg Pixley, PIO and chief recruitment officer, explained how their organizations are advocating for firefighters' complete well-being and what their goals are for the future.
FFSHC: Sharing resources and best practices
Bator, who began his fire service career in 1996, said the idea of the collaborative started as an internal look at his own organization. "I found some areas that we weren't addressing in our own department—something as simple as having a health and safety committee that was required by state law," he said. "We started asking around to see what other departments were doing, and we found that the areas we were deficient in were the same as other neighboring departments."
After this startling revelation, Bator called a meeting and invited departments in the South Florida area. "We had a good showing at the first meeting, about 16 departments from South Florida showed up," he said. "We talked about safety, and that just evolved into another meeting and into another meeting."
Now, the collaborative averages close to 100 attendees at each meeting. "Once we got the momentum going, we realized there was a lot more going on," Bator said.
As a result, part of the collaborative's focus is on the Firefighter Life Safety Initiatives developed in 2004 at the Firefighter Safety Summit in Tampa, Florida. "We can't address them all, but we focused on four specific areas—cancer prevention, mental health, overall firefighter safety and health and fitness," Bator explained.
In 2016, Bator connected with Eaton during a meeting while discussing firefighter cancer prevention.
"We started working on cancer prevention because one of our guys got cancer about 10 to 11 years ago, and it was a shock for everybody," said Eaton, who began his fire and EMS career 33 years ago. "There was some momentum and continued outreach around an event that we created, and we got some recognition and started the cancer prevention team at our department about five years ago."
Two years later, Eaton's efforts turned into a team under Bator's collaborative. "Now we're not just statewide; we're literally touching other states and being able to cause some influence there as well," Eaton added.
Since the formation of the team, Eaton said they haven't missed a meeting yet: "It's about an hour and 15-minute call every month. By doing so, we're able to discuss the issues that are impacting firefighters—and not just the issues, but also the solutions."
The solutions, Eaton said, were once a foreign concept for most departments, but is becoming a normal conversation among the collaborative's members. "We've moved the needle for prevention," he said. "For example, instead of just talking to people about hood swap, now every single department on our team is moving to hood swap."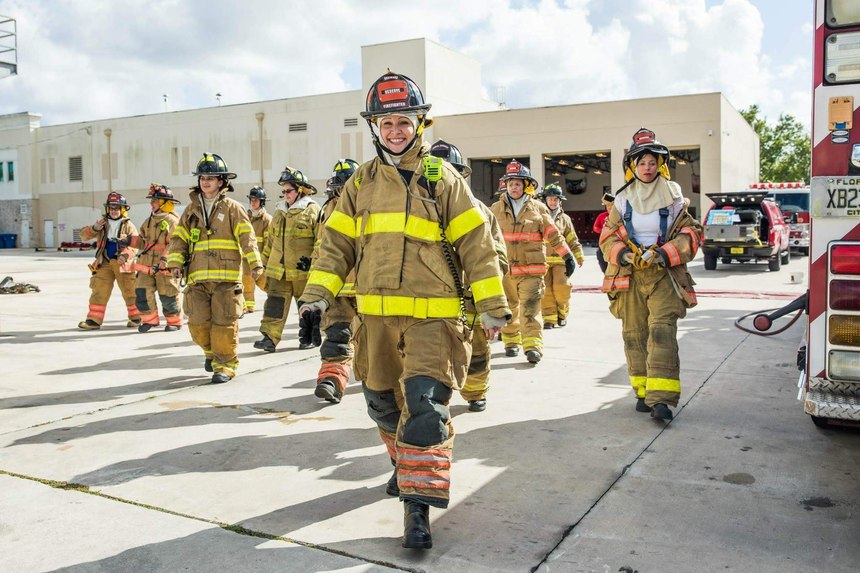 Eaton also noted that they have a well-placed team to help push back the naysayers. "There's always going to be a body of firefighters that will push against it," he said. "We know that it's an uphill battle. We continually fight against culture. The clean cab, the post-fire on-scene decon, making sure firefighters have a second set of gear, no dirt and grime on your face; these are new concepts that are finally getting the attention that's needed."
Bator agreed, saying he believes the perfect storm is happening. "The buy-in is happening," he said. "We've lost firefighters to cancer, too, and the impact it made changed the way we do business now."
Moreover, the collaborative's mission is to make sure all fire departments are prepared for whatever comes their way.
"Most fire departments don't have the resources, and most firefighters or chief officers have other roles as well and can't focus on this type of stuff," Bator said. "We got tired of sending everyone our standard operating guidelines (SOGs). When we put this website—www.floridafirefightersafety.org—together, we loaded all the SOGs for people to go somewhere to have free resources, take what they need and make their department better. We just took a lot of great things that made sense and got it done."
For Bator, it has been humbling to see how much departments are now willing to share among each other. "Before, they weren't sharing, but now, all of these things are being used as best practices."
Looking ahead to the future, Bator and Eaton said they would like the collaborative to cover the entire state of Florida. "We're launching our sixth region, and then we'll be doing the Florida Keys as our last region," Bator said. "Our goal is to get the entire Florida fire service together, not just for the meetings, but to come together to talk about the issues."
After covering the state of Florida, Eaton added that the collaborative has already began making connections in California, Missouri and Ohio. "We want to create a national model for what the collaborative would be. Every time a new state or region jumps on, we learn so much from them as they learn from us. That's the goal: sharing ideas and working together on this."
And, much like the collaborative, the Denver Fire Department's comprehensive health and safety program has also been a labor of love.
Denver Fire Department Peer Support Team: Helping the helpers
Pixley, who has been with the Denver Fire Department since 1992, began his firefighting career in the U.S. Air Force in 1985. He has worked in several positions for the department, ranging from working on one of the busiest engine companies, serving as a wellness coordinator, water rescue captain, fire academy instructor, and most recently, PIO and chief recruitment officer.
Pixley has also been the director of the department's peer support team for the past 15 years. Much like working at the firehouse, no one day is the same.
"I like this position because it takes me back to the active action that I had working on one of our busiest companies, but it's also completely different," Pixley said. "I like having the responsibility and the opportunity to develop a recruiting program that will help us maintain a diverse workforce to represent the community."
In addition to ensuring the department is diverse and well-rounded, Pixley has also focused his attention on the overall health and safety of Denver's firefighters. And, with over 1,000 firefighters, that is no small feat.
The department has focused on behavioral health since 1983. "That's when we first created our peer support team," Pixley said. "Our peer support team at that time is not what it is now."
In the beginning, the peer support team mainly focused on relationship and substance abuse issues.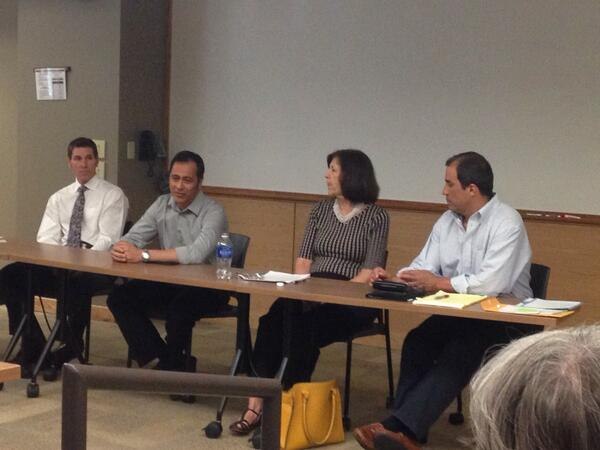 "We want to counsel and be that shoulder that people can lean on," he said. "There's been this understanding that we, as an emergency service organization, need to do more. And, as of late, with the recognition of PTSD and suicide, it has given us more credibility of what we're doing and more validation of the efforts we have been putting forward."
Pixley recalled many cultural changes that he's witnessed throughout his time in the fire service, but one still remains the same in his mind—the stigma of a hero reaching out for help.
"We need to reduce the stigma and look at these heroes and heroines who are going out every day and saving lives. They need to be seen as heroes if they're asking for help. They're the heroes. They're the strong ones. It's not the stoic individual who doesn't have the ability to reach out."
Pixley added that the adage that the fire service is "250 years of tradition unimpeded by progress" needs to change. "When we do some of the same things we did 250 years ago, the culture has to change for the sake of the overall wellness of the whole team."
Last year, a study found that more firefighters died by suicide in 2017 than all line-of-duty deaths combined. A total of 103 firefighters died by suicide, compared to 93 firefighter line-of-duty deaths.
"The biggest struggle is teaching the new firefighters that it's OK to reach out and ask for help," Pixley said. "And, for an older firefighter like myself, it's difficult because that's not the way we were raised."
Pixley said some still "snicker and call us the 'kumbaya team.'"
"If we can help one individual, if we can save one life, whether that be through cancer prevention, cardiovascular deaths, or psychological services, whatever it is, if the department can help one of their fellow firefighters live a long and healthy life, then our approach to wellness has been successful," he said.
Fire department leaders need to realize having a similar program at their department will be a long-term fight, a long-term goal and a labor of love. "The team has to be focused on the long game," Pixley added.
As for the future of the Denver Fire Department's peer support team, Pixley hopes to take a regional approach to provide services. "I see it as being one network," he said. "There's going to have to be an acceptance, awareness and understanding that no one is out to be better than everyone else; we're here to help each other."
After all, not one fire department can do it all.